Campus Ambassador : Know how does it work ?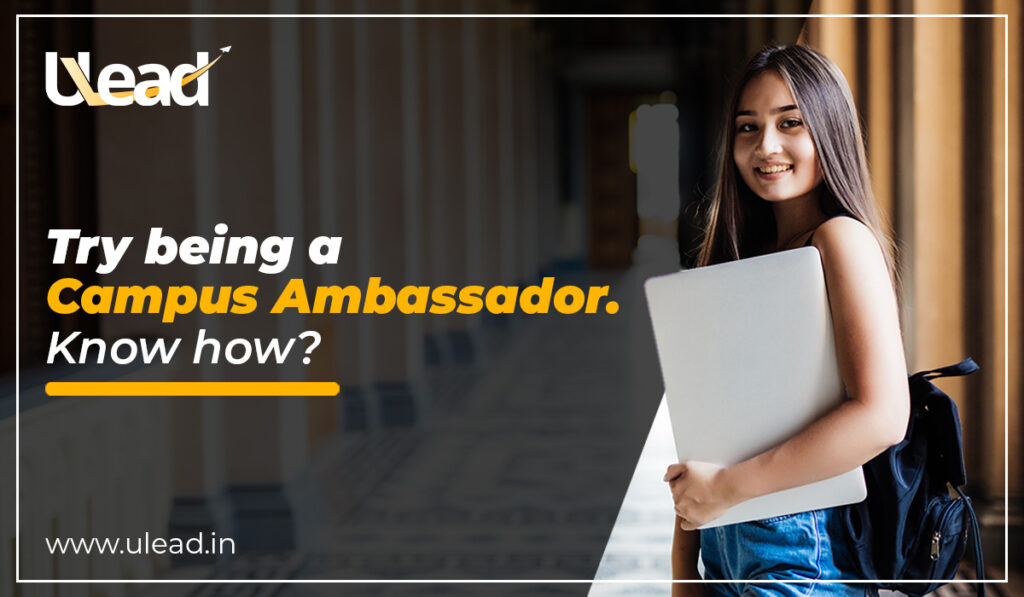 With the growing importance given to extracurricular activities, it has become vital for students to become more active. As a result, students are involved in co-curricular activities on their campuses.
Seemingly, it has become significant to seek internships and interact with companies. The prime motive is to gain practical experience of the corporate culture before actually stepping into it.
But, one should know where to start from. So, we are here to guide you to get yourself through practical exposure.
Try being a Campus Ambassador! But what is it? Who is a Campus Ambassador?
It is a golden chance for anyone who wants to get exposed to wider opportunities. Thus, they can enroll themselves in a Campus Ambassador program and adhere to the opportunity.
What is the Campus Ambassador Program and its duties?
Being a campus ambassador is unlike an internship. The campus has a lot on its plate as they represent a brand within an institution. Updating with the latest modifications and even bringing about changes. A campus ambassador has specific functions and is not like doing an internship. It is not a temporary job process. Instead, being a campus ambassador is like forming a long-term bond with the business. Even though the student is not physically present in an office, he/she is now a representative and is as equally important to the firm as any other person. Campus ambassadors bridge the gap between college students and organizations.
Duties of Campus Ambassador
The growing demand for campus ambassadors
Today's youth planning to become part of the generation's campus ambassador has seen a surge in the role than ever before. Initially, only big brands such as Microsoft and RedBull came up with the concept and employed campus ambassadors, but today the story is different.
Today campus marketing is adopted by almost every dimension of businesses. However, the logic is very simple: college marketing caters to a very idealistic audience who can do college marketing better than the college students themselves. Students are hired to get brief insights about the demands of aspirations and work according to them. In addition, students have access to more than just being physically present on campus.
In this era of digitalization, the students employ their social media expertise to get the company a better reach. Thus, the reach is more than just the boundaries of a single college campus. In today's time, even startups make use of campus ambassadors to create hype about their products or service. In this way, they gain popularity among a varied population very easily.
With technology advancement, campus ambassadors' creativity and management skills, along with digital marketing, every business module is trying its best to earn the right campus ambassador for themselves.
Top Campus Outreach Programs For Interns
Driven by the advancement of technology, firms are reaching out to Generation Z through campus ambassador programs. These programs enable the students and the community to keep abreast with the constantly-evolving technology. Campus ambassador programs are an easier way for enterprises to broadcast the current tools and techniques within the community. We have listed down top campus outreach national and international programs helmed by noted tech companies:
1. Campus Ambassador At ULead
ULead is a blend of educators-turned-programmers and programmers-turned-educators. The responsibilities of Campus Ambassador at ULead include branding and promotion of Unschool courses as your internship's primary tasks. In addition, expand your reach to more than just a few colleges. Initiate ULead in different colleges. Click to review more.
2. Graduate Program Advisor At Shell
Shell has launched a new IT hub in Bangalore. The main aim is to enable the business by focusing on business outcomes, delivering fit-for-business technology solutions leading to business agility and profitable growth. As the Graduate Programmes Advisor, the candidate will be the Campus Ambassador responsible for providing research and insights. It will include an audience and competitive landscape, to support the ongoing development of graduate attraction for resourcing and business partners, and other such. To review more in detail click here
3. OnePlus Student Ambassador
OnePlus Student Ambassador Program is a six-month-long campus connect program. It strives to form a network of like-minded students across India. The purpose of the student ambassadors will be to serve as the OnePlus community specialists, brand evangelists, and technology experts in their institutions. Find out by clicking on this link
4. "Terns" Are The Interns At Twitter
Twitter is unusual because they have diverse internship programs completed virtually. Moreover, after the post-pandemic, Twitter permitted its employees to work remotely permanently if they wanted to. As a result, this approach towards virtual work also extends to their interns.
All interns at Twitter are called "Terns." But, just like many other interns on our list, Terns play a vital role at the company and contribute to actual work.
Twitter internships are available for those students at an accredited four-year university in their junior or senior years. Graduate students are also eligible. Click to explore.
5. Microsoft Student Partner
Microsoft Student Partners is a program that sponsors students who are majoring in technology-related disciplines. The student partners are a group of on-campus ambassadors who assists fellow students, lead in their local tech community and develop technical and career skills for the future. Find more to apply by clicking on this link
6. Mozilla Campus Club
Mozilla Campus Club is an initiative where a group of fellow students from universities and colleges clubs together to create and innovate open-source projects and webs for the community. Click for more details
7. Internship at Google
Google ranks among the most globally sought-after companies in the tech industry. Every year, hiring managers receive millions of qualified applicants for different roles. Getting your foot in the door at Google is incredibly demanding and challenging. However, getting an offline or online internship at the company can put you ahead of the rest. There are various programs at the company for multiple roles, like STEP program, the BOLD program, and the APM program.
Benefits of being a Campus Ambassador
A well-managed and executed Campus Ambassador program will offer tons of benefits for the students and the company. Let's take a sneak peek at the benefits of being a Campus Ambassador:
It is a great learning opportunity for students. It provides a glance at the corporate world to the students and exposes the office culture of the organizations.
Students gain skills like team management, event organization, public speaking, social media, content writing and promotion, and different other technical skills.
Being a Campus Ambassador provides students exceptional access to events, conferences, etc. organized by the company.
It allows them to get connected with various like-minded students across myriad campuses.
You can add Campus Ambassador experience to your resume and get ahead of others.
Get industry certified for being a campus ambassador.
The benefits and recognition of being a Campus Ambassador are not restricted to the above-mentioned list. There are a whole lot of other blessings of being a Campus Ambassador which you can unlock once you enroll in it.
When to apply for being a campus ambassador?
The campus ambassador needs to be ready even before they are appointed. The campus ambassadors contain all the valid sources both within and outside the campus. They are already in power to endorse the company when they are appointed. Hence, it becomes significant for a student as an individual to consider a lot of factors before applying for a campus ambassador. Let's have a brief insight to act upon it.
Start by gaining knowledge about the company. It is vital to know about the company you are applying to as a campus ambassador to know the goals. As an individual, you should decide if the company's objectives are aligned with you.
Understand the demands of the company. It is essential to know what they are expecting from you. Clear your doubts about the company's representatives if needed.
Also, enquire if the company has a mechanism to recognize talent. If they have a mechanism for keeping track of the progress, it will benefit you. Your talent should be something they recognize and have a reward-based system.
Develop an understanding of the company's capabilities and ideas. In this way, you will have a heads-up of what is stored for you and prepare yourself accordingly.
Points to remember before applying for a student ambassador program
The following things must be kept in mind before applying for the Campus Ambassador program for any organization.
Do thorough research on the company before applying. If possible, go through reviews.
Understand the program thoroughly and clear all the doubts about the company.
Make sure the organization has a proper performance tracking mechanism. 
Ask the company about how much time you need to invest in a week because you do not want to sacrifice your study for the Campus Ambassador program.
Understand how they have planned the Campus Ambassador program. Whether they have a clear objective or not?
If you want to apply for Campus Ambassador Program At ULead, you can directly enroll by filling up the form by clicking on this link.
All the best!