Online Internship Program- Fuel your corporate skills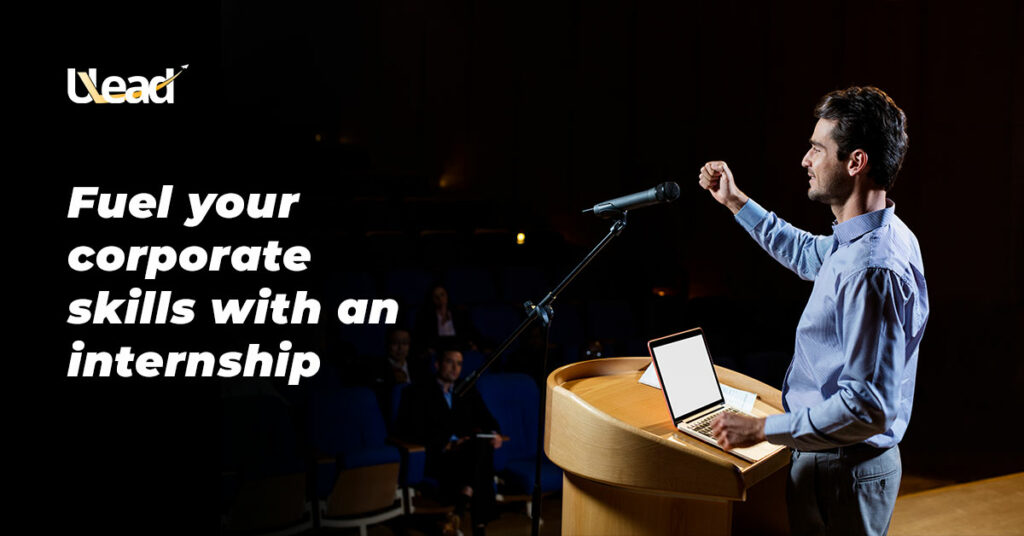 One summer evening I got a call from MTV. He asked me if I would like to become their campus ambassador in my college. I was surprised because it was out of the blue and to an extent flattered I had never applied to them. And they offered incentives such as goodies, invitations to MTV parties, and meeting with VJ's.
These days the internet is loaded with Campus Ambassadors offers. It is the latest marketing technique and almost every brand is trying to make the most of it. Of late even political parties have started applying this technique to promote themselves among the youth.
After all, it is not expensive and gives a personal touch to the social networking promotions by these brands. So far, so good. But what about the campus ambassador? Is it worth it?
I would like to answer this question with the help of ULead, an online internship program. But before giving you a walk-through of what is ULead, let me introduce the concept of campus ambassadors.
Insight of campus ambassadors
A campus ambassador program is a conduit for brands to create community and knowledge around their services through university students. However, it helps the brands to increase awareness around ongoing marketing initiatives in an easily digestible way. Simultaneously positing the values to potential job seekers later. To be successful, campus ambassador programs demand the right representatives on campus, a manager to oversee the effort, and a process that connects referrals to your recruiting efforts.
An interesting part of becoming a campus ambassador is not only spreading the company's presence across multiple colleges/universities but the campus ambassadors are also being paid well at the same time. Thus, mutual benefit is the key here. A campus ambassador works 3-4 hours a week and devises the right methods to bring as many students to the program. This experience serves as an extra advantage to the student and welcomes a big deal in their resume down the line.
Few tips and tricks to becoming a successful ambassador
To make a campus ambassador program a success, you need to create your ways of reaching out to people. Sure, you can try your own traditional or new methods, but if you are looking for something different, here are some of the tips I have for you!
1. Find your target audience
Not every program is meant for everybody, true! The same goes for your campus ambassador program. As a campus ambassador, you have to find the students that are potentially interested in your program. It is the first step toward generating a lead for the program at the least.
2. Establish your presence online
Having an online presence is important when you want your campus ambassador program to be a success. Likewise, for word-of-mouth to be as successful, you need to target the people in the right direction across a mixture of channels and platforms. Engage with people on social media and other places around. Create a blog or forward emails to people and make them aware of the program over time.
3. Have an adequate marketing knowledge
Marketing is a common and evident way to get more people towards your program or reach out to more people. Brand ambassadors usually realize that the more authentic they are with their campaigns, the better the results will be.
4. Develop leadership skills
Leadership, in my opinion, is one of the most vital things to bring people towards a certain agenda. The more influence a person has and the better he can motivate his peers, the more valuable of an asset he becomes.
Being an ambassador opens a door to new opportunities that you could potentially reap a lot of benefits from it.
5. Adopt Professionalism
Ambassadors must represent the company. Whatever a campus ambassador stands for, reflects the values of the company he is affiliated to. Working as an ambassador even allows you to seek new jobs in the future. Overall, there's no reason for you to miss being involved in such programs.
Know what is ULead Online Internship program?
If you are a spirited individual looking to challenge the way the system works and believe that exceptional and well-rounded education is the way to change the world. Then ULead and you are on the same page. It is a paid online internship program for students to upskill themselves while reinventing learning and transforming lives. It is very much related to the campus ambassador program.
Let us explore the two levels in the program in a detailed manner. As you move up the ladder, you'll have your own team. Leadership is the most sought-after skill by all companies, and Ulead is the place to be if you see yourself as a corporate leader in the future. Below are the levels namely:
Youth Influencer
This will be Level 1 of this online internship program. Youth Influencers work on marketing Unschool Courses and gaining traction online, building operations and getting matches, and advertising on different social media platforms. Get Promoted to the next level on successful completion of the given tasks.
Youth Leader
This will be Level 2 of this online internship program. Youth Leaders lead the revolution by building and mentoring a team and ace at leadership skills and operations. They represent Unschool at events and build marketing and operations strategies.
Roles and responsibilities
We are solving a difficult problem of the failure of India's education system. Fundamentally changing the way our students learn, acquire skills and build their careers. Therefore, your role is to spread the word among your peers and empower students to become industry-ready through courses and internships.
1. Sales and business development
Branding and promotion of the company's product are the primary tasks of your internship. Market in your college, neighborhood, and city and get exciting rewards on each enrollment.
2. Expand to different colleges
The next step becomes taking over the city, in true Leader style. Expand your reach to more than just a few colleges. Initiate ULead in different colleges.
3. Marketing and usage of social media platforms
Marketing through various social media channels is very important to learn and master skills that can help towards organic lead generation.
4. Events, workshops, and partnership
Be the representative of our brand in your college and build student clubs to Approach student bodies, Class Representatives to enhance our branding.
Perks of the ULead Online Internship Program
Time to hear from our Interns
Meenal (YL)– Interning with ULead for 9 months has been a super crazy and exciting journey. It is a space where I have evolved, explored, and grown unconditionally. Kiddos to my mentor for believing in me. ULead is a gift for me that I have always dreamt of. It has everything you, and your mentor will bombard you with more. Here I am learning, falling, experimenting, and believing in myself.
Mauryan (YL)-I was hesitating a bit about the sales and marketing internship. But later when I started my journey, it was a blast for me
because I knew had the potential for the same. It has given me a taste of a corporate as well as a friendly environment, basically a gist of what is like to work as an intern. I first started as an influencer, and now promoted as YL. I am doing well with my own team.
Aarushi Jatian (YL)– My internship experience was invaluable as I was exposed to hands-on experience in the marketing field. In my journey not only did I learn sales and marketing skills but also I learned skills like communication, leadership, management, and a lot more. I also managed a team of 50+ people and we all
together come up with great revenue. However, the overall experience is positive, and everything I learned will be useful in my future career in this field.
Mahesh (YL)- My Sales and marketing online internship at ULead has allowed me to become so much more independent and confident in myself! Although it could be a little intimidating at first to meet new people and put my skills into practice, it felt really good once I did it. I feel as if I have grown a lot from this 2 months experience. It has benefited me long-term due to the knowledge I have acquired of how a company is run and the variety of different jobs I could do. All the coaches I got to work with were very incredibly supportive and helpful.
Now ULead offers a paid online internship program for students to upskill themselves. We empower students to become industry-ready through courses and internships. Enroll now!