Online Internship- Start Your Career with Startup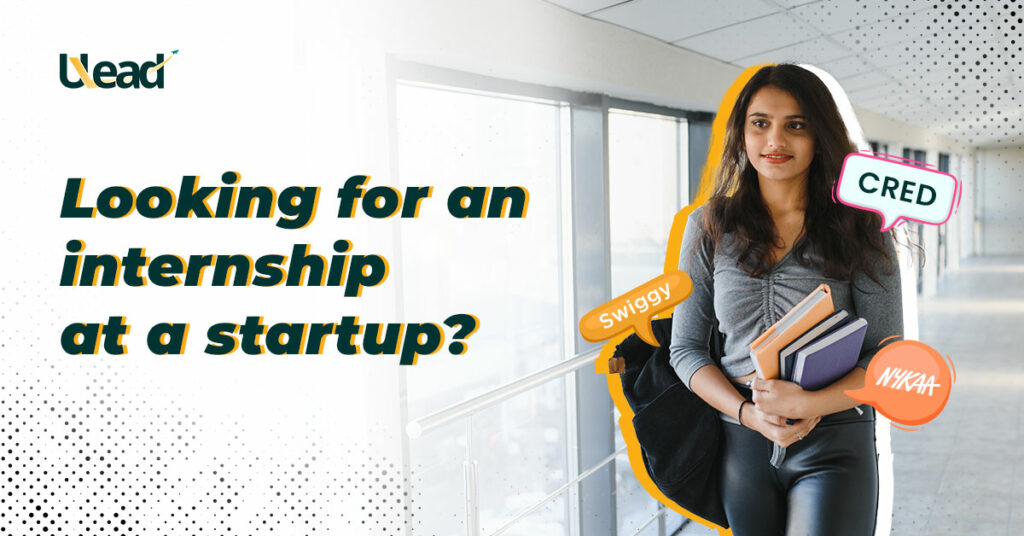 A little bump on the road where freshers think that is it safe to give a start-up internship a try? Will they be given enough exposure and opportunities that they may have if they were in a corporation?
All these questions are asked by many freshers who get rejected in MNC and then try their luck in the start-up. No worries I will put an end to all these questions by guiding you to start your Online Internship in a startup. Before going in-depth let us observe the demand for internships in India.
India sees a steep rise in Online Internship
The rising demand for young internees across large corporations and startup firms is breeding several new ventures. The main motive is to link prospective employers with aspiring students. Now firms are spotting new talent and connecting them with candidates seeking multiple options on a single platform.
Across the startup ecosystem, myriad new ventures have sprung up including ULead, LetsIntern.com, HelloIntern.com, and Internshala. These portals together have a database of vast companies and institutes listing internships both in India and globally. Therefore, interning at a startup has become desirable with the recent surge of new players in the market. Many startups are pioneering new products and making interning for one an exciting prospect.
"Interns are part of a 'millennial' talent pool and bring an enhanced value to our work environment," says Debashis Chakraborty, a recruitment leader at IBM for India and South Asia.
Source: Internshala 2018
Also Read: Click
What are the best ways to get an Online Internship at a startup?
If you're interested in interning for a startup, the best take is to research which companies align with your interests. Start by digging for employers in the cities you want to work in! After you've found some interesting startups, narrow it down and start investigating the start-up.
If they have listings up for interns, give a thorough read to the application and send a cover letter and resume. But if there are no postings, it never hurts to reach out to the company and get yourself on their radar. Showing that you know their work and a desire to learn is a great indication of a curious self-starter.
Another way to get an internship at a startup is to consult your network. Talk to your professors, alumni, and friends about startups they've worked at or heard of. It never hurts to assess your network first!
Best Online Internship Startups in India
Internships are finally becoming a mainstream phenomenon and are no longer restricted to a select few campuses and companies only. Let us explore India's top 4 startup internships to apply for in many domains:
Internshala
ULead
Let's Intern
Hello Intern
Internshala
Stage Type: Part-time/Full-time
It is one of India's largest internships. It is designed not just to offer internships, but to train students to get certain skills.
It is a technology company on a mission to equip students with relevant skills & practical exposure to help them get the best possible start in their careers.
The procedure of applying for internships is also quite straightforward. Just follow the instructions and get yourself enrolled.
Click on the Internshala website to explore more.
ULead
Stage-Part-time/Full-time
Get your hands on the online internship program while reinventing learning and transforming lives.
Empowering students to become industry-ready through courses and internships. This paid internship is only for the sales and marketing domain.
Hiring spirited individuals who are looking to challenge the way the system works. If you believe that exceptional and well-rounded education is the way to change the world, we are on the same page.
Click on the ULead website to explore more.
Let's Intern
Stage Type: Part-time/Full-time
This is an internship website in India that offers university students the option to locate internships.
Its broad reach in small companies is different from its competitors. In a pond, you're only one more duck.
Thus, the scope of the start-up field includes university students, which smooths the search procedure. Moreover, these internships are available in many fields and publish recommendations on its blog continually to educate students more effectively about the internship process
.
Click on the Let's Intern through the website
HelloIntern
Stage Type: Part-time/Full-time
It is another of India's greatest internships that students have used to pick through the most suitable internships.
Hello, Intern is a superb platform considered to be a worldwide practitioner. This website enables students to apply for a variety of internships with businesses, startups, and NGOs.
This website offers internships in several disciplines and professions. There are also several training programs to study new talents and new subjects.
Explore your interest at HelloIntern through the website
Also read: Startup India
Virtual internships three times the in-office internships
According to the report, students have been more inclined toward virtual internships than in-office internships. Virtual internships have three times more applications than in-office since many students are the ones already enrolled in various courses, or prefer working from home.
Source: Internshala 2018
Stipend or monetary compensation has been an important factor for people taking up different internships to enhance their skills. Therefore the average stipend offered to interns was ₹7000, while the maximum stipend goes up to ₹85,000.
Apart from the rising concerns over unemployment and skill gap, internships have emerged as a golden opportunity. College students and people willing to restart their careers can enrol themselves in internships in their preferred domain.
Conclusion
Do you dream of going to work in jeans with super-motivated people and creating new things as a team? If you are ready, then becoming a startup intern might be for you. The world of startups is casual but very hardworking.
You never know if you may be the next Mark Zuckerberg or Jack Dorsey. But regardless of your goals, being an intern at a startup can help you reach them. Startup's online internships open doors to experience if this fast-paced part of the tech world is for you. Some startup entry-level jobs demand prior startup experience because the environment is very different from corporate offices. The learning potential for startup interns is uncapped because you will have access to the CEO, Co-founders, and many other knowledgeable team members.