Career in 2022- Top 5 Technology Skills For a Successful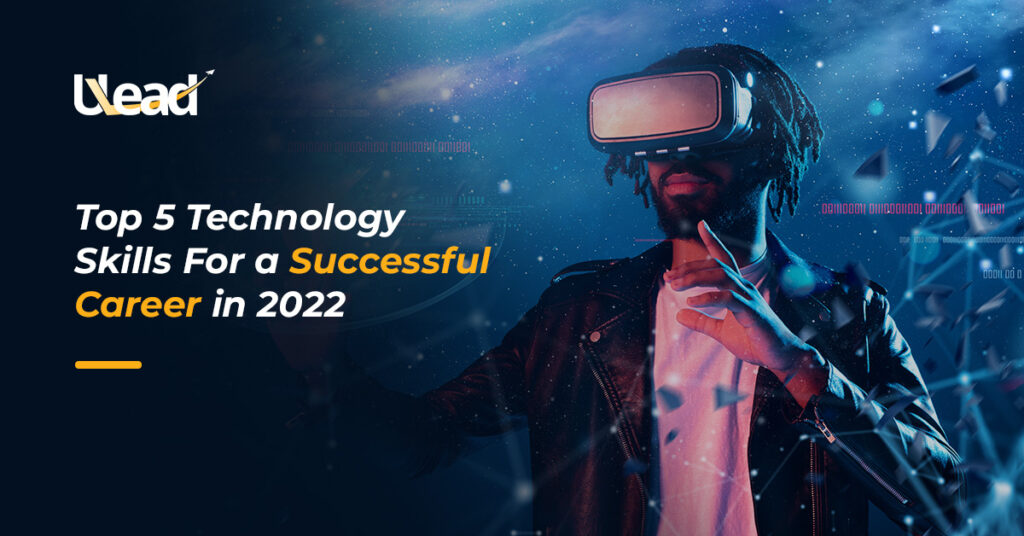 India has tapped into the first wave of IT demand effectively. But the rapid pace of technology change indicates the constant work towards reskilling its workforce to counter the skill gap.
Technology has become critical for every aspect of life, whether communication, remote working, online learning, or daily requirements. Therefore, when combined under one roof, these interactions are a treasure trove of data for organisations to guide their business strategies by implementing advanced tech applications. These technological capabilities and new industries' emergence have led to a shift in the demand for skilled human labor. Thus, creating immense job opposites in the technology industry with handsome packages.
Read more: Click
Carve a successful career in 2022
As the topic states, to upskill yourself with technology skills to carve a promising career in 2022. But how to learn at my own pace? Is it difficult to learn? What if I don't get a job after doing a course? All these questions are answered with an online course offered by many Edtechs like Unschool, Udemy, My Captain, etc. Here they provide various technical courses along with internships to give you an in-depth understanding of the field. Furthermore, they also offer jobs after completing the course in renowned tech firms.
Now that you have learned where to upskill, let's move to the top 5 tech skills. This technology industry welcomes both fresh graduates and professionals willing to hone their skills. Here they are mentioned below:
Artificial intelligence
Data analytics
Cloud computing
Information security
Blockchain
Artificial intelligence
The scope of artificial intelligence (AI) has taken vast leaps and bounds over the last few years. Many organisations across the sectors are seeking to capitalise on AI applications. On the other hand, AI is transforming the functional, operational, and strategic landscape of myriad businesses.
The enormous growth of AI companies and the automation of jobs have fueled the market for an active and thriving AI talent ecosystem. According to the report from NASSCOM, it was estimated that India would need around 800,000 AI professionals by 2021. However, results were positive, and it had already 570,000 professionals with the knowledge of these skills by the end of 2021. As a result, it covered a massive skill gap at that time.
Giant techs such as IBM India, Accenture, 24/7 Customer, Nvidia Corporation, Hewlett-Packard, EY, Genpact, Amazon, eClerx Services, and Capgemini came into the spotlight. They emerged as the top 10 organisations contributing to the demand for AI professionals in the country, offering a median salary of INR 14.7 lakh.
Data analytics
In the past decade, the exponential growth of data volumes and analytical complexity led to the increasing adoption of in-database analytical tools. Firms are consuming this data to acquire consumer insights and build networking. In addition, they also drive their major business decisions by analysing the data. Despite the recession in the job market, the enthusiasm and optimism around data science and analytics functions in India stay high.
According to the report, 93,500 data science jobs were vacant in India at the end of August 2020 for appropriate talent. Simultaneously, sectors like BFSI, e-commerce, Edtech, and logistics are still hiring fresh and top-rated graduates of tech talent. Therefore, lucrative job roles such as analytics specialist, data scientist, decision science manager, business analyst, analytics manager, and operations analytics manager. These positions are underlined among the most promising future jobs and offer the highest median salaries ranging between INR 13-15 lakh globally.
Cloud computing
Cloud computing has been the most transformative technology and has earned significant momentum since the 2010s. With many organizations migrating to the cloud from their standard application owing to the pandemic, jobs in this domain are rising massively.
Recent reports revealed that India is expected to see more than 1 million cloud computing jobs by the end of 2022. As more organizations are shifting their operations to the cloud infrastructure. There is a high demand for key roles, including cloud application developer, cloud network engineer, cloud automation engineer, and cloud security manager.
The salary survey stated that cloud professionals could earn anywhere from INR 4 lakh per annum to INR 35 lakh per annum based on their experience and skills.
Information security
From the time of the first virus attack in 1989 to today, information security has appeared as a board room-level concern. Amidst the pandemic, there was an increased risk of data breaches, leaks, and cybercrimes. It leads to the alarming need for skilled information security professionals every day.
The New York Times citing Cybersecurity Ventures research reported that the demand for cybersecurity jobs would increase manifold and result in 3.5 million unfilled positions by 2021. Global in-house centers (GICs) and other leading firms, including Deloitte, KPMG, EY, PwC, Amazon, Walmart, Paytm, and Accenture, are hiring professionals. Thus the roles are security engineers, pen-testers, and security analysts with an average salary hike of 15-20 percent. It is safe to say that this domain is likely to witness steady demand, and skilling here will lead to fruitful results concerning job opportunities.
Blockchain
A concept of a technical backbone of the digital currency was introduced with the integration of blockchain technology. It is witnessing significant demand across different sectors, including banking, insurance, logistics, healthcare, and public administration.
Although India is still at the budding stage in exploring blockchain technology, it holds tremendous potential for blockchain applications. Global spending on blockchain solutions is anticipated to grow from 1.5 billion in 2018 to an estimated 15.9 billion by 2023.
Companies in nearly every industry are speeding up their efforts to create value for their business. Hence fueling the demand for roles like blockchain developer, blockchain system architect, blockchain software engineer, and more. Blockchain has become a line of business for corporate biggies like IBM, Oracle, JPMorgan Chase, Microsoft, Amazon, and American Express. In India, a blockchain developer commands a salary package ranging from INR 2 lakh to INR 10 lakh.
The road ahead
We all know that change is the only constant. Regardless of your profession and designation, you must adapt to the constant changes to have a successful career. While many unique technologies keep emerging, evolving, and disappearing, these top 5 are in-demand tech skills suggested by experts.
Learning these most in-demand tech skills will enable you to create and enhance your skills. Moreover, realize your potential and prove your worth in the corporate world.
What are you waiting for? Enroll in an online course to upskill yourself and enter the world of career in 2022 opportunities.