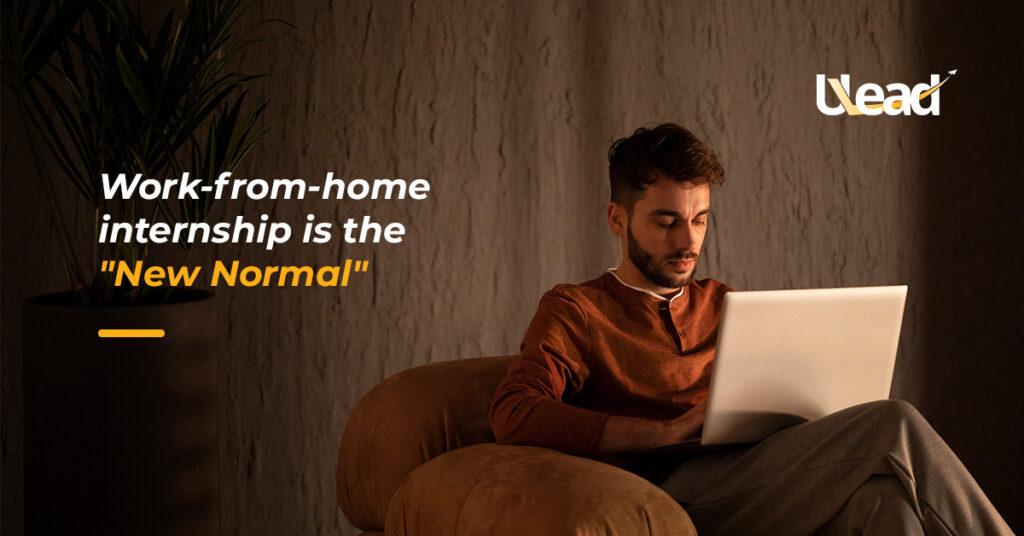 In the time of modern advancement, everything has transformed. The way we communicate, travel, order food, and even get our household chores done. Gone are those days of waiting to place an STD call, standing at an auto stand and negotiating for the fare, or even spending precious minutes on the phone trying to place an order, so you don't go hungry. Our everyday struggles are solved simpler with the development of applications, or as we lovingly call them, 'apps'.
When the entire planet has been brought to your phones and laptops, then one brilliant bloke argued, why not work? Hence, the idea of working/interning from home came.
This concept is not very old, and if you go to your grandparents and inform them that you are interning from home. The next reaction will be a look of disapproval. But, on a serious note, online internships have been on the rise for the past decade. With the fast increase in technology, one can work from anywhere until they have a laptop and a stable internet connection.
Types of Work from home or Virtual internship
All kinds of work that an intern does at a regular internship can be done remotely. A few work areas are especially suited for a work from home internship. Therefore, it includes marketing, advertising, graphics designing, blog writing, content writing, software development, work on social media, etc.
All the above works can be handled sitting at home, provided the intern knows what he should do. An intern ordering content writing, editing blogs, or even designing for a company or even doing sales calls does not demand to be at the place of work.
"During my time, the concept of "work from home internship" was just on paper. My onsite internships had many pros and cons. Sometimes I had to go for an internship in the first half and then run for college in the second half of the day. It was difficult for me to manage my studies as well as an internship at the same time. Even though I was exposed to new learning skills, it lacked self-paced learning."
Moreover, they require space and time to get their ideas going, which is possible by interning online. Thus the moral of the story is that the tasks that don't require someone standing over your head every minute to guide are the ones you can do from home.
What if I told you there is a work from home internship with a stipend? Yes, you heard it right. ULead offers an online internship in sales and marketing for students to upskill themselves. Leadership is the most sought-after skill by all companies, and Ulead is the place to be if you see yourself as a corporate leader in the future.
Read more about types of internships in India: Click
Scout internship websites for suitable opportunities
Finding a remote internship is now just a click away. All you need to know is where to look. Diverse internship websites list opportunities of all scales and categories for college students, like summer internships, online internships, paid or unpaid internships, or more. Here I present the list of the top 10 internship websites in India to get your hunt started:
With these websites, you can build your profile, find opportunities that interest you, and directly send your resume and other necessary applications in one place. With this, we can segue to our next step.
Top 6 reasons to apply for a work from home internship now:
While remote placements are non-identical to offline internships, it doesn't lessen their value. Remote interns won't experience office culture but will still develop valuable connections and skills. Perhaps the prime difference is the importance of self-motivation. As a remote intern, you'll communicate closely with managers and colleagues.
Let us take a deep dive into why you should apply for a virtual internship:
Gain real-time experience
Boost your network
Expand access
Gear up for a remote internship
Gain technological fluency
Develop a global perspective
1. Gain real-time experience
If you're a student desiring to supplement your studies with professional experience in a preferred industry, there is nothing more important than relevant experience. A work from home internship delivers real-time insight into an organization's and industry's inner workings. Thus, experience is critical for remote as well as office. The real-time nature of virtual internships is preferable to self-directed courses or freelance work. The main reason is that interns benefit from immediate feedback from experts in their fields.
2. Boost your network
Establishing a valuable professional network in an onsite or remote internship is important. A robust network is one of the essential tools when applying for a full-time job. The connections you make during an internship are essential to future professional success, from referrals and references to mentorship and advice.
However, remote interns unite closely with direct managers and cross-functional teams. In addition, it welcomes the opportunity to display their interests and skills to establish relationships with experts.
3. Expand access
One of the work from home internships' most critical impacts is their expanded access. In simple words, these online placements are enabling to bridge the professional opportunity gap, particularly for students and young professionals in emerging economies.
Experts believe remote internships are an excellent opportunity for everyone, irrespective of nationality, to learn professional skills to apply them in the corporate world.
Let me put it this way, what if geography wasn't a barrier? Where would you work? From which country do you want to learn business perspectives? What are your long-term goals? All these questions directly to remote internships might be just the right step to help you facilitate those dreams.
4. Gear up for a remote internship
Working remotely doesn't always come easy to everyone. Successful remote interns must be highly self-directed, have excellent time management skills, and be top communicators on every platform. Virtual internships let you acquire the skills and habits essential for remote work. If you plan to apply for a coveted remote job in the future, you'll be well prepared and qualified!
5. Gain technological fluency
One of the most apparent differences between in-office and online internships is the prevalence of technology. Virtual internships depend heavily on today's leading technologies, including remote teamwork, organization software, and online meeting platforms. However, digital fluency is vital for success in today's workforce, irrespective of your preferred industry. The experience of interning remotely confirms your familiarity with favored technologies and ability to learn new digital skills at your own pace.
6. Develop a global perspective
If you're still confused, "are virtual internships worth it?" think about the flexibility of a remote placement. Multiple virtual internships offer placements with companies and teams in the outside world, letting interns encounter international experience in their domain. Part-time internships and flexible schedules mean that regardless of where you are, you can intern with a top firm on the other side of the globe.
Closing Thoughts
2020 has been anything but ordinary & this online internship through it all has been nothing short of extraordinary! Virtual interaction was in diverse modes to fulfill the desired outcome. Depending on the task at hand, most firms have started employing different platforms to communicate online with each other like Skype, Zoom, Google meet, and more.
All in all, the bottom line is that online internships are a boom for those firms that seek an efficient workforce without shelling out too much money. It is of great help to graduates who want to intern but, due to geographical or economic boundaries, end up without any learning experience. Online internships are an answer to all these problems.
The demand for work-from-home internships is rapidly increasing and captured many eyes of undergraduates and fresh graduates. Thus a new way of the internship is unrestricted to anyone and everyone across the globe, and it's so self-paced that we can choose our hours to work. All we need is an uninterrupted internet connection!