A Summer Internship or Job? Know which is best for your career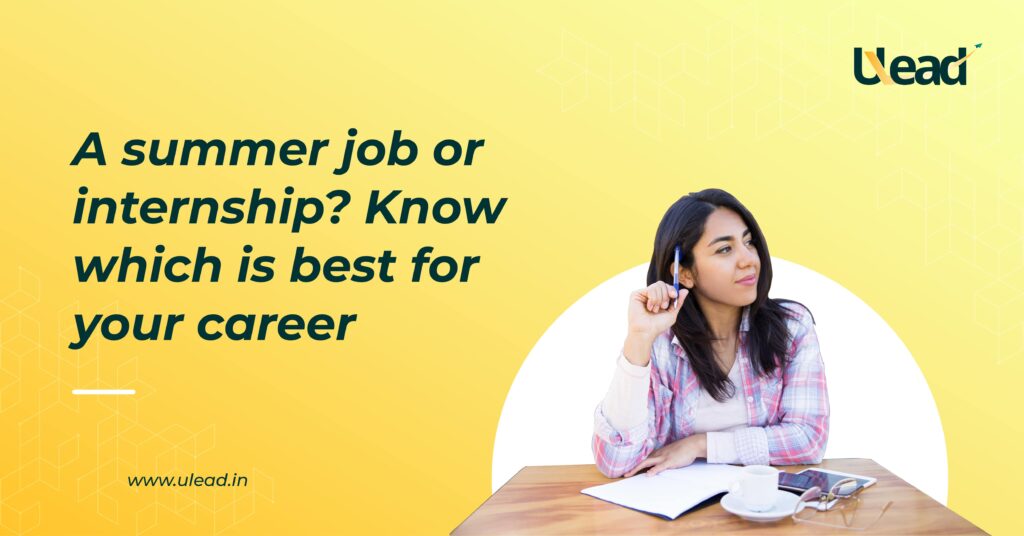 A common question asked by many students that which is the best choice for a career to get a summer job or an internship? It can be a tricky choice, particularly when you need to balance career experience vs earning money for your day-to-day life.
It doesn't matter if you're still in college or university. Both internships and summer jobs are the mainstays of many young people. Moreover, both possess potential advantages for your resume.
Therefore, to get a better idea of which option is best suited for the exact situation, this blog will give you a walk-through of all the different factors by examining:
Insight into internships and summer jobs
Which option has the best career prospects
How to write a cv for a summer job or internship
Getting a summer job, is it worth it?
Whether you work in a bookstore or get your experience helping out at a music festival, summer jobs offer not only money but invaluable hands-on experience in the practical world.
If you're thinking to apply for a summer job, it's best to check in with local businesses or online to see what vacancies are available. Remember always find an opening that strikes a balance between the experience that is applicable in your future career and a steady income.
I recall my old days when I was in college and struggling to get standard pocket money from my parents. Then I decided to apply for summer work that paid well to become an independent woman. Later, I discovered apart from the monetary value, I gained valuable experience which later helped me in my marketing domain.
In some circumstances, however, summer employment might be the only realistic option for students. Especially if you are counting on a job for income. If this is the case then summer work is certainly the safest bet.
Do summer jobs offer enough relevant experience?
It's not acceptable to say that summer jobs don't offer real experience. But they don't have the same emphasis as internships nor do they necessarily provide you with the key skills.
A summer job on your CV can still pack a punch. Numerous abilities will get tested out that employers will be eager to see on our resumes including organisation, job responsibility, interpersonal abilities, and more.
What about the Summer internship?
Many more university goers are giving their dream careers a test run with a summer internship. An internship on your CV can be highly useful for many reasons.
The discussion around unpaid internships has been heated over the past decade. However, even in the unpaid position, there is still something to gain and explore as a student.
It will come as no surprise that unpaid internships can be easier to obtain. Although some openings with major firms can still be competitive.
If you can afford to work in an unpaid internship, this is an opportunity worth pursuing especially as a short-term option of a few weeks up to a month. In all other cases, it might be necessary to hold out for a paid position. However, internships can be highly impactful on a CV.
Summer job Vs Summer internship
Ultimately, the choice counts on what you're thinking to achieve in your career. For instance, if you're studying for a role in a competitive industry with a very niche skillset, then you should opt for an internship. As a result, a summer internship will give you the best shot at breaking into the field.
However, a summer job will not hurt your career prospects. Employers will still be happy to see that you have already taken the initiative to step into the real-world experience. After all, workplace history is still highly valued, as well as your academic knowledge.
Whatever you choose is ultimately circumstantial. If you need money over the summer months then go for a summer job over a summer internship. However, if you have the time and resources available before entering a very competitive career path an internship is definitely worth your time.
How to reflect a summer job or summer internship on your CV
If you're taking the next step up in your career a work placement can look very good on your CV if it is included in the right way. However, there is some mantra to keep in mind:
1. Draw parallels in your experience
Present your experiences in a chronological format. It will reveal that your experience is more recent and that you've been proactive in your spare time.
2. Just the facts
No fibs!
Whatever you have written in your CV must be accurate. account of you and your work experience. When adding a work experience entry for either a summer job or internship, remember to add relevance to the job you are applying for. Thus giving employers the most reason to sit up and notice your document amongst the pool of candidates. If you've accomplished an internship in your preferred domain then it will be easier to do. However, in the case of a summer job, it demands a bit more skill by explaining to the reader why your experience fits the job in question.
3. Demonstrate your suitability via your work experience
The job description or advert should give you the list of required skills.
Be specific – if the job description states you must have customer support experience. Accordingly, give the detail that demonstrates that you have the experience and more.
4. Point out your achievements in your work experience
A common 'error' on CVs is listing individual work experiences like a job description. For instance, listing duties and responsibilities, rather than illustrating how their role was relevant to the job they are applying for.
5. Focus on the strengths in your experience
It is particularly relevant to those seeking a career change. You can still include a short employment history with dates under the 'Key Skills and Experience' section. It will help you convince the HR or manager that you are the ideal candidate on page one.
Conclusion
A summer job or Summer internship is more than just another task to check off on your way to the corporate world. When you make the most of this opportunity, you're taking the first step toward a meaningful and rewarding career. Now it is totally on you to choose a path for your career. Both summer jobs and internship holds valuable experience that benefits you in the future. Take a step back and decide wisely. Apply now All the best!!!