Digital Marketing Career & Land a Well-Paid job
Want to discover everything about a career in digital marketing? Not sure where to start? Then, you are in the right place; read this blog to know all about a career in digital marketing, salary prospects, and more!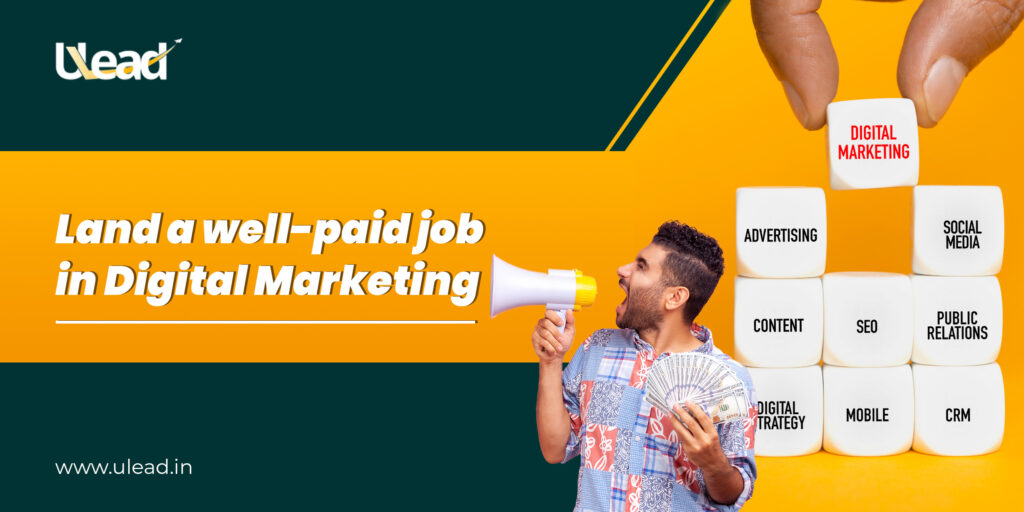 Choosing a career in Digital Marketing, in today's scenario is one of the trendy and fastest-growing industries globally. This career may not be a dream job but most people desire it during college. But it has a lot to offer in terms of the opportunities and giant firms are demanding digital marketers brand their products and services.
The digital marketing career is very exciting due to frequent transitions as different platforms are introduced. Therefore the role of the digital marketing manager scoop out trends and witness the impact of the new digital platforms. LinkedIn stated that the "Digital Marketing Specialist" role is among the top 10 high-demand jobs, with 860,000 job openings. Therefore the requested experience in digital marketing possesses social media, content strategy, SEO, analytics, and more.
Get Onboard With Digital Marketing Roles
Before stepping into digital marketing, it's vital to comprehend the key specialties within the industry. Moreover, there are myriad digital marketing opportunities available in the market and each with its own sets of skills to master. Let us have a look at it:
1. Email Marketing
2. Search Engine Optimization (SEO)
3. Content Writing
4. Social Media Marketing
5. Advertising / Search Engine Marketing
Email Marketing
The term sounds pretty self-explanatory. Here you send emails to targeted lists but the targeting demands specialised skills. Marketing trends and channels evolve. While a few trends come and go quickly, one of the channels that have stayed more or less the same is email. Email has placed its position as the top channel for content marketing with both B2C and B2B marketers.
Many firms do not want to settle for a tool to simplify the process. However, email marketing tools are not expensive and there are plenty of free email marketing tools that can assist you to save time and money. The tools are
1. HubSpot– A popular marketing automation platform. It is a free email marketing tool that can support loads of small businesses' transactional email needs. To know more check the Website
2. Sender– one of the best free email marketing tools in the market with features to ensure deliverability. Click here to see more
3. Sendinblue is a marketing communication medium that features email marketing tools and extra functions like customer relationship management and landing page creation. Just visit the website
While the other paid tools of email marketing software are:
1. Mailchimp is a well-known email marketing software due to it has the features that most businesses require, without any confusion or complications. Click here to know more
2. ActiveCampaign helps with automation because it has hundreds of pre-built automation that offer personalized campaigns for each subscriber. Here is the link to the website
3. MailerLite is the easiest email marketing software to use. It includes a drag-and-drop interface giving fun and intuitive way to construct the design you want. Check to know more
However, marketing emails are forwarded to a pool of customers and prospects to drum up business as well as build awareness of products and services. Simultaneously, the emails are sent out to engage audiences without the intention of hard sales. The duties of the email marketer are to test distinct subject lines, text, and formats to see which emails can draw more attention. Therefore in India, the salary of an Email Marketing Manager ranges from ₹ 2.4 Lakhs to ₹ 15.1 Lakhs with an average annual salary of ₹ 6.0 Lakhs.
Search Engine Optimization (SEO)
The boss is your Search Engine Optimization which plays an important role in digital marketing. It is the backbone of every part of the content that will go live since all content has the purpose of discoverability.
There are multiple free and paid SEO tools that exist out there. If you are looking for a high-caliber website, you'll need to invest in its success.
Let us check out :
1. Semrush
Do you have lots of data to process? Semrush could be best for you as an all-in-one tool. It can track organic traffic, keyword rankings, and backlinks. To know more about it click here .
2. Moz Pro
Moz Pro isn't just an SEO tool but a suite of SEO tools. It is the best solution for a wide range of capabilities.
However, if you are looking for a career as an SEO expert then you have to undertake a detailed course. There are various online courses available on the internet, pick one and get started with your career. As giant firms are moving online, thereby welcoming multiple opportunities for freshers. Click here to know more.
The digital marketing career outlook for SEO specialists is robust in the long-term. After the pandemic, firms have acknowledged the necessity for professionals who understand social media, content quality scoring, competitive analysis, mobile search, and website analytics. Furthermore, the average salary for a Digital Marketing Manager in India is 7.2 Lakhs per year.
Copywriting
Once you gain knowledge in digital marketing, you will be exposed to the importance of writing. Copywriters deliver a wide array of content, like taglines, product descriptions, emails, ads, and more. Also, they create non-digital content such as direct mail and video scripts.
Copywriters need a strong writing background with creativity and curiosity. Their main role is to grab people's attention in a world full of distractions and their salary package starts from 5 lakh depending on the level of experience you have.
Content Writing
At first glimpse, content writing and copywriting may appear to be on the same page but once you are in a digital marketing role, you will learn the difference between the two.
Content writers concentrate specifically on long-form content that attracts readers to the site and facilitates them throughout the sales process. Therefore, the long-form of content involves whitepapers and case studies, blog posts, and eBooks that enlighten readers and keep them coming back for more. As for content writers they can use Grammarly to check and frame professional sentences. Now we know the importance of content in the digital world so the salary package of a Content Writer in India ranges from ₹ 1.2 Lakhs to ₹ 6.2 Lakhs.
Social Media Marketing
It's no secret that social media marketing is a massive part of digital marketing. Social media managers foster brands on webs like Facebook, Twitter, Instagram, LinkedIn, and more.
Social media managers design campaign strategies, videos, and graphics and research audience fads to convey the brand to the right people. Experience in digital marketing and building communities is a must. The manager's salary starts from 3.6 Lakhs to 6.8 Lakh per year depending on the years of experience.
Advertising/ SEM or Digital Marketing
The domain of advertising has changed remarkably over the past few decades. Digital advertising dominates the role of digital marketing.
Advertisers are accountable for checking the right products to the right audiences. They construct healthy relationships with media brands to decide what style of content will work best and negotiate rates and terms appealing to both parties. If you are looking to have a career then digital advertising has a great career stance for competitive creatives aiming at a fast-paced, people-oriented environment with an average salary of 7.2 Lakhs per year.
The Future Beholds
Traditional marketing still exists in the world but digital marketing is quickly replacing affordability and analytics. Marketing managers are now able to track the traffic on the website, and which tactics produce the highest ROI. This data-driven approach justifies the job profile and proves its worth. As a result, successes are to be recited over again, removing the guesswork for future campaigns.
Due to many facets of digital marketing strategy, the number of related jobs is relatively high. Though the industry is encountering a crisis because of the digital skills gap. A survey from LinkedIn discovered a shortage of 230,000 digital marketing professionals in the U.S. With so many jobs available in the market and not enough professionals to fill them, now is the perfect time to get started in digital marketing.
Now ULead offers a paid online internship program for students to upskill themselves. We empower students to become industry-ready through courses and internships. Enroll now!