Internship in Google- How can I apply ?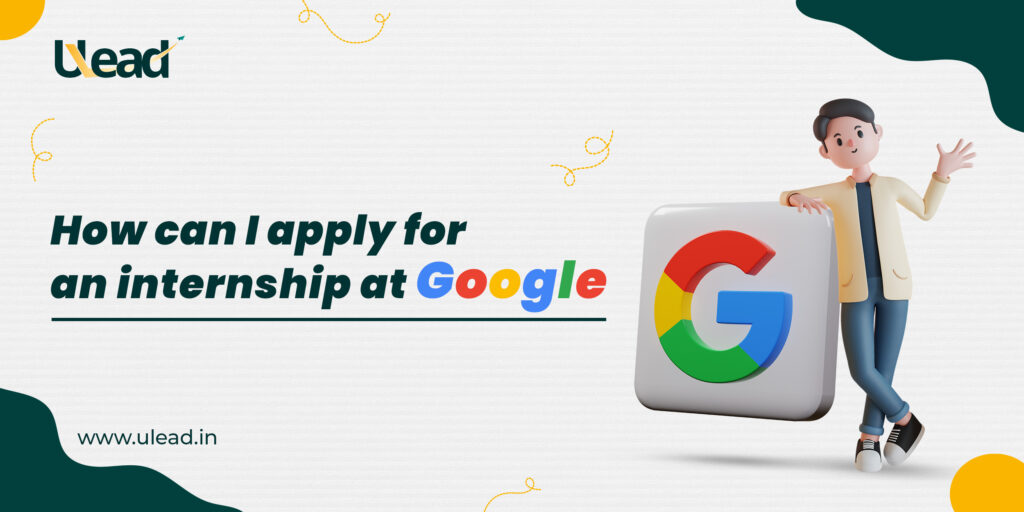 GOOGLE INTERNSHIP !
Sounds exciting right and a dream company for every soul on this planet to work. And why not? We are speaking about one of the biggest IT firms in the world. A company with internship perks makes the salary of many top professionals look like a loose change.
Have you ever wondered what makes Google so renowned?
It is because Google is nearly a monopoly in the online search arena with 87.75% of the online search volume and market in June 2021. This domination leaves small room for competitors attempting to outsmart and beat the search engine, which generates its revenue through ads. The second largest search engine, and the prime competitor to Google, is Microsoft's Bing with 5.56%, followed by Yahoo! with 2.71%. Let us learn how Google managed to position itself at the top of the game.
Internship Opportunities in Google
Do you know most of the current employees of Google are ex-interns, meaning there are high chances of you turning your internship into full-time employment? Therefore, Google offers an equal opportunity workplace and is an affirmative action employer. Google pays an average of ₹1,084,612 a year to its employees. The salary range from an average of ₹272,632 to ₹4,008,587 a year and employees with the job title Senior Software Engineer make the most with an average annual salary of ₹2,159,088, while the Software Developer makes the least with an average annual salary of ₹536,743. Apart from the salary, it has a myriad of opportunities in multiple departments to offer internships across the globe. Its motive is to grow with them and help create products and services used by billions. For now, it offers internships in some departments.
Lets us dig into the various internships Google offers:
1. Business Internships
2. MBA internship
3. BOLD internship
4. Legal internship
5. gCareer internship
6. Associate product manager
7. Software engineering internships
8. Information technology internship
9. STEP internship
1. Business Internships
Business internships possess numerous teams and roles within the business environment at Google. It welcomes undergraduate and graduate students from all backgrounds, with diverse talents to drive the business, expand our people, and put the user before all else.
If you are looking to enrol yourself for business internships then click here to know more.
2.MBA internship
MBA internships are available throughout the globe, and interns can set their education to use on day one. Students who are pursuing their MBA courses in any domain can enroll in Google Internship. Therefore, applications for internships are open in September and October. You can check the site by clicking here.
3. BOLD internship
BOLD interns can join teams in Sales, Marketing, and Operations to determine challenges, band on producing solutions, and drive meaningful change for clients and users. As a result, it will help you to upskill and build careers. Moreover, applications will be entertained in October for rising undergraduate seniors. You can go through the site by clicking here.
4. Legal internship
Unfortunately, this internship is offered in specific countries outside of North America. Furthermore, this internship is only open to students majoring in or specializing in legal studies and applications will be open in October.
5. gCareer internship
Google is offering an amazing opportunity for people with 4 years of experience in sales, service delivery, marketing, digital advertising, or project management or who are on a career break. This program is offered outside of North America with rolling application dates, click here to know more.
6. Associate product manager
Here the interns have to bridge the technical and business worlds by designing technology with engineers. Afterward zooming out to lead matrix teams like Sales, Marketing, Finance, and more. The internship is open worldwide, with varying requirements and application dates. Click here to check the latest internship programs .
7. Software engineering internships
As the name suggests the internships are available globally to graduate or undergraduate/PhD students with rolling application dates. Interns should possess a broad set of technical skills that enables them to tackle a few of technology's greatest challenges. Check out the upcoming programs at Google by clicking here .
8. Information technology internship
The IT internship is designed for students who are passionate about technology and providing technical user support. The program includes front-line internal user support, a corporate engineering project, and skills-based training. Check out for more.
9. STEP internship
STEP stands for Student Training in Engineering Program. It is a development project that concentrates on students with a passion for technology. If you think you can prove your passion in Google then start applying here.
Google stayed ahead in the search game
In today's digital world, Google is the premier terminus to discover anything on the world wide web. But only a few people know about the advent of Google and the people behind the 21st-century miracle. It all started in 1995 as a research project by Larry Page and Sergery Brin at Stanford University. Google co-founders are fans of wordplay. The name "Google" was coined after a googol the name of the number 1 followed by 100 zeros which describes the enormous amount of information that a search engine has to analyse through.
Google's authority over the internet became highly unmatched and single-handled the revolutionised search marketing. While modern businesses came into the picture and altered themselves with the introduction of new digital marketing notions. As a result, a kingdom of new markets was unrestricted to innovators and entrepreneurs with amazing opportunities to tap into. Simultaneously, it managed to stay ahead in the search game with all the new updates by the search engines and adapted to the new search marketing strategies.
Therefore, a whole new game of search engine optimization was being played by all the major corporations and the rules were always changing. Originally, the search engine results were based on keywords and backlinks but Google wasn't pleased with a whole new industry that was using paid backlinks and stuffing keywords to run higher without enhancing their quality.
The priority of Google is to deliver the most appropriate information based on the search query and experience the magic happening. The algorithm took care of the order and authority of the search results. Tons of companies were attempting to game the ranking system and in no time, Google began hitting back at them. It unleashed updates to prevent people from manipulating any loopholes which would help them rank higher than someone with more relevant information. Furthermore, started to eliminate misleading results from its page and introduced Adwords to its customers if they wanted paid space in their index. At last, Google flourished as a company by taking all the efforts to satisfy their customers, thus making profits from advertising.
Fun Facts
Google's first office was a rented garage.
Gmail was launched on April Fool's Day, no joke.
Google gave Mountain View the gift of free Wi-Fi.
In 2006, the company decided to equip Mountain View with free city-wide Wi-Fi at its headquarter, California. Therefore, more people jumped on the web and employed search engines with the help of free Wi-Fi.
The Google homepage is available in 80 languages.
In 2021, Google is the dominant search engine with a 91.94% market share
Google-owned site in talks with NBA, NHL, and most 'pro sports leagues' including European football leagues.
How to prepare for Google Internship
With a potential future that looks so booming, it is natural that Google welcomes thousands of internship applications every year and hires loads of interns. The competition is challenging but is rewarding enough to lure you to apply for it.
Now that you know in which domains Google offers internships, it's time to gear up for applying. So, the question arises how can you get an internship at Google? Well, there is no shortcut for you to get an internship at Google but a few tips might increase your chances of drawing attention.
Update Resume
Make sure your resume is concise. Google receives tons of resumes every year and each resume receives an average of 10 seconds only. Hence, delete the flux and tailor your resume for the internship that you want to apply for. Don't forget to highlight the experiences and skills related to the position. Experiences can be anything from part-time jobs to the projects you have accomplished. Furthermore, discover keywords from the position and employ them in your resume as it boosts your chances of getting uncovered.
Additional Projects
A top-tier college and a high GPA gives you an edge but your opportunities get multiplied if you have added something to showcase. Apart from the studies, what extra have you achieved outside the classroom? Participating in social events or following a hobby passionately or launching your small business can be anything that demonstrates your creativity and the ability to drive things on your own.
Make Your Online Presence Felt
Invest time creating a robust online portfolio. Place your work out on Github or write technical answers on Quora. Participate in a technical discussion on Twitter or LinkedIn or join groups connected to your domain on Facebook and LinkedIn. Simultaneously if you are having a strong online presence is one of the easiest ways to brand yourself and get the attention of recruiters.
Application Process
After you have updated your resume and made an online presence, now is the time for the application process.
Let us have a look at mixed methods by which you can apply for an internship at Google:
Dig Out The Connections
Locate people who are working at Google and can refer you there for an internship. If you have any personal contacts search on LinkedIn for Googlers and send a formal message to them for the same. Another way is to check your college alumni group who are working with Google. If you get a Googler via a mutual friend and get introduced/referred to Google and might get lucky a referral can get you past the resume screening process.
Apply Online
You can apply online via Google Internship Portal. Visit the page, fill in the details and upload the resume. Always remember the cover letter and the resume should be unique enough to land you in the next stage.
Through College Campus
If you are blessed enough to get a seat in one of the top universities in the country, then getting a summer internship with Google would be smooth. Keep a check with your placement branch to see if your university is registered with Google. If yes, apply for an internship through the college placement cell.
Google Summer of Code
It is not an internship program but is an international program sponsored by Google where students work on projects with mentorship companies appointed by Google. The best part is it is complete Work From Home gig handled by Google.
Preparing for the Interviews
Interview time!
Read and have a clear idea about the position you are applying for. Check out various sites for some practice interview questions and practice problem-solving. There are high chances that you are going to have a telephonic interview. Therefore, set up a quiet location and have a proper mobile network.
Are you ready to become a Googler?
Earning entry into one of the most coveted Google internships isn't an easy job. However, if you are lucky, you will have access to a network and community of a few of the most passionate and brilliant professionals in the occupation.
To get there, follow our suggested guidelines in applying for the internship, trust in your capabilities, and don't pause to connect with Googlers and recruiters. Communication is key to landing the position and succeeding once you get in.
Google values robust qualifications, but only the lucky ones who are the most passionate and dedicated candidates get the chance. Approach this process with an open mind, a lust for growth, and a high sense of commitment and you'll be in a great place!