How do I get a Paid Internship in Foreign Countries from India?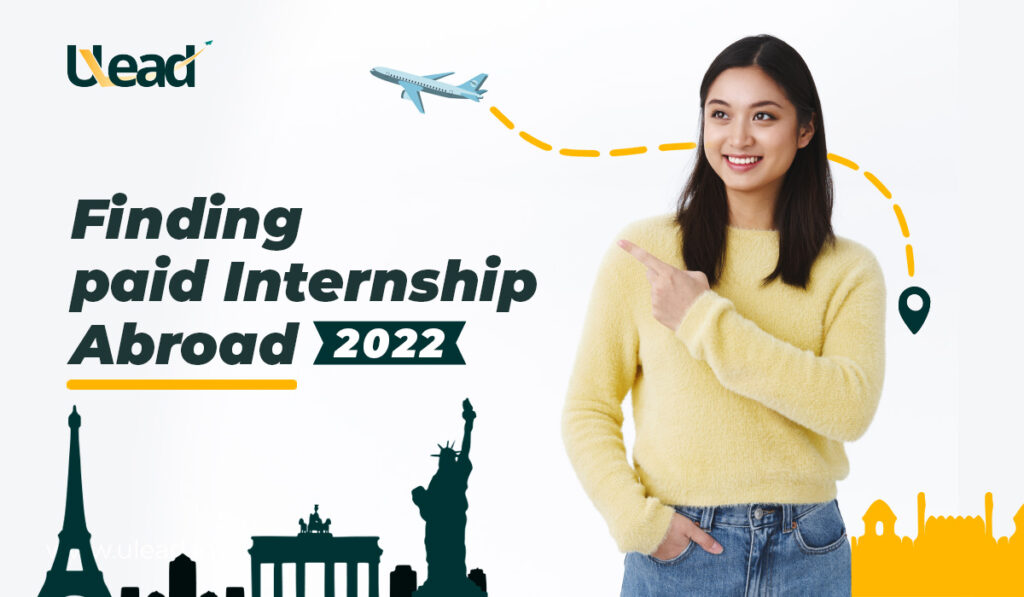 International paid internship are one of the premier ways to acquire skills in the preferred choice. In addition, international placements make it easy for you to gather experience from top-notch organisations. Moreover, the work experience, going overseas is an excellent way to learn other invaluable skills from stepping outside your comfort zone.
Locating an internship can be a stern task, and finding one international is an even more significant challenge. Therefore, one has to heed some basic steps before applying. Here are some questions to give you a kick start by asking yourself :
Which industry will offer the most pertinent work experience?
Which countries have a demand or job market for that sort of work?
Do you speak another language, and do you want to intern in English or the native language of that country?
Which countries can you receive a visa to participate in an internship legally?
Once you have narrowed down the internship type and nations according to your goals and capabilities. It is time to button up your resume and start applying.
How to apply for internships abroad
There are two paths to finding a paid summer internship abroad. The first is to go through a program provider, who will be assisting you through the journey, from putting you with an organisation to securing a safe and successful experience. While some providers may offer their internship programs, or they may be a pipe between you and the host company.
There are different benefits of interning abroad through a program provider because they possess the expert knowledge and support system during, and directly after the internship. Moreover, your provider may also enable you to earn university credit for your internship. Also, the program providers demand a fee for their services for unpaid and paid internship.
The second way is to apply directly and will need more front-end work. Instead of a provider placing you with an organisation, you need to do the hard work like research on qualifications, visas, housing, and transportation. You will also be vying with all the other applicants applying for the internship. Those taking this course will need to comprehend the requirements for interning in the country when applying and have some regional knowledge to have the best chance of landing an internship.
There is a crystal clear cost-benefit of applying directly to internships with firms overseas. Therefore, applying directly is a good route for those trying to enter the hiring channel for highly competitive corporations. Sometimes internships often end with full-time job offers for potential interns.
Qualifications for foreign internships
There are only prime qualifications to get enrolled in a relevant university program namely:
The capability to speak the language
No criminal record
The ability to pass a health screening
Program providers may also need you to carry health insurance that will cover you if you are travelling overseas.
Few renowned companies offer paid summer internships abroad
Adobe Research employs graduate students to cooperate on state-of-the-art technologies. In the summer of 2022, they are hiring interns for various locations namely USA, Canada, France, Germany, Romania, Spain, Switzerland, and the UK.
Google is hiring interns for multiple domains such as software engineering, UX, product management, and other technology-related areas. Internships are open in the UK, France, Switzerland, Ireland, and South Korea.
JPMorgan Chase & Co. are looking for interns for finance, leadership development, banking, and other finance positions in the USA, Mainland China, India, Hong Kong, Singapore, the UK, Bahrain, Japan, Germany, and the Philippines.
Apple presents mixed internships to both undergraduates and postgraduate students in China, Germany, France, England, Switzerland, Japan, Italy, Austria, Spain, and the US.
Tesla offers internships and apprenticeships in engineering, sales, visual design, business development, and more in the Netherlands, the UK, Germany, Mainland China, Hong Kong, and the US.
Most in-demand fields for internships
International internships are one of the best ways to upskill in each field of your choice. In addition, international placements make it easy for you to assemble experience from world-class organisations. Furthermore, the work experience possesses going overseas to learn other invaluable skills from stepping outside your comfort zone.
Now with varying times, virtual or remote internships have come under the limelight. Virtual internships too are enabling interns to generate professional networks with international organisations. They provide the same level of international experience to brush the skills that are demanded in today's economy.
Let us explore the different fields with some fortune companies example –
1. Engineering
2. Finance
3. Technology
4. Marketing
5. Management
1. Design & Engineering
Engineering is a multinational business, and internships exist around the world. From day one, in any engineering company, you will be exposed to and expected to exhibit awareness of a global way of thinking and doing things.
Likewise, Rolls Royce offers two internship programs in Germany: Final Year Projects and Working Student Programmes. It offers students in the final year of an engineering or business studies degree in Germany the opportunity to make the most of our expertise and experience by carrying out their BA, MA or Diploma thesis with them. Thus all the interns and graduates will receive a competitive salary in some cases because the company believes individuals make a difference, and they should be rewarded. Click here to know more.
BMW is a worldwide leading automobile and engine manufacturer. The headquarters is located in Munich, Germany, along with other offices around the globe. BMW Group, which possesses Mini and Rolls Royce, offers paid internship to graduates in the domain of Engineering, Business, Computer Science, and Marketing. If you are looking for an internship in Germany, South Africa, USA, and China, then click here to enroll .
2.Finance
Pursuing a career in a highly competitive field like finance demands both excelling in academics and undertaking the best opportunities in prestigious internships. Although taking your finance internship abroad not only introduces you to the field itself but also equips you with the international mindset required to truly succeed in today's deeply interdependent financial world.
J.P Morgan is the best American company in financial services, with clients in more than 100 countries. Presently, J.P. Morgan has a 'Paris-aligned financing commitment' setting a target of becoming carbon neutral and utilizing 100% renewable energy. Therefore it offers paid internship in multiple sectors like Investment Banking, Sales & Trading, Asset Management, Finance, and more. The locations are America, Asia Pacific, Europe, India, Japan, and South Africa. To know more about the internship click here.
3. Technology
The word "technology" encompasses our daily lives. It's challenging to find an industry that hasn't been or is currently being altered by rapid advancements in technology on both the hardware and software sides.
Many of the most invaluable and influential companies in the world right now have leveraged technology to enhance our lives. If you are on the same page, an internship can be the first step on your path.
The international tech giant Google has multiple products that are used by masses worldwide making it one of the most influential tech companies on Earth. It offers paid opportunities for international internships in product management and technical internships in numerous locations namely the Americas, Europe, the Middle East & Africa, and the Asia Pacific. Click here to explore more.
4. Marketing
Business and marketing are some of the most sought-after job opportunities in the world. As companies resume to grow their international market reach and generate new product lines and services, creative marketing specialists are demanded worldwide to enable businesses to gain a competitive edge. Since business marketing requirements are always evolving, there are multiple marketing internships abroad for grads!
Unilever is an Anglo-Dutch international company, a leader in food, beverage, cleaning, and personal care production consumed by over 2 billion people worldwide. However, interning will open doors for grads who are thriving to have a successful career in Marketing, Finance, Human Resources, and IT. Thus, the locations are North and South America, Europe, Asia Pacific, the Middle East, and Africa. Apply now.
5. Management: L'Oreal
If you are interested in reserving a position within the global business market, then discovering a business internship abroad is right for you! Not only will you be able to gain top-notch work experience but you will have the chance to study many different cultures. By landing a business internship abroad, you will significantly improve your communication skills by interacting with people from different corners of the world. When compared to finding an internship overseas it will permit you to achieve valuable global skills and experience.
L'Oreal, known for its shampoo and conditioners is a cosmetics manufacturer. Their products are widely distributed on every continent in the world. Interning with them is an excellent way for aspiring young management professionals to study the world of business and travel. L'Oreal is committed to a world without animal testing. Therefore, you can apply for an internship in Management, Product Development, and Marketing.
Best destinations for internships
According to the report from Go Overseas 2021 listed internship programs across the globe, are the most popular destinations throughout the year.
Get experience, get paid!
Paid internship give you the opportunity for a hands-on experience that is missing inside a classroom. International internships offer you the chance to see your field from a global standpoint, learn from experts, and enjoy unique and exciting experiences in another culture. Put your summer to work this year and develop skills that will stay with you no matter where you go.
Now ULead offers a paid online internship program for students to upskill themselves. We empower students to become industry-ready through courses and internships. Enroll now!