After College Graduation- Why is it so hard to get a Job?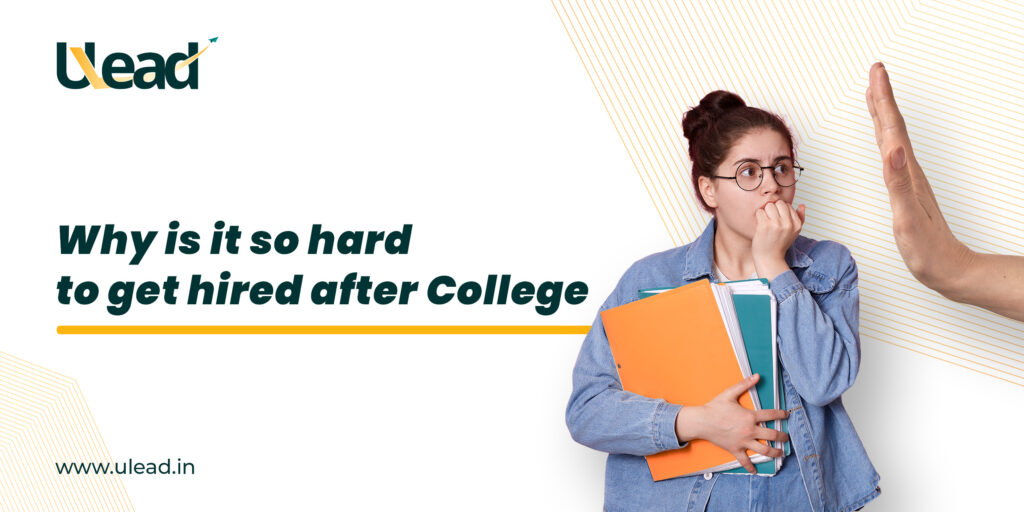 As anyone who is recently completed College graduation or applied for their first job in recent years can attest to, something alarming has ensued to entry-level jobs that they've evaporated. The pandemic in 2020 was the cherry on the problem due to lock down and remote work.
According to the reports in 2017, LinkedIn posted 4 million jobs, and out of that 35% of postings demanded entry-level positions with years of prior work experience. Unfortunately, in certain industries, it was even more common. More than 60% of listings for fresh software and IT Services jobs needed two or more years of experience. In simple words, entry-level jobs did not entertain fresh grads without prior experience.
The simple answer is students need something more than inspiration or a college graduation to step into the workforce now, that is internships or the professional networks to get around a complicated application process without an algorithm weeding them out. But not everybody has access to those benefits, and the result is freshers are sitting unemployed. Before jumping on the solution, let us discover the common challenges a fresher encounters.
Few mistakes for not landing a job
College graduation in their hands and zeal for the career they want to build are exciting. But when they start looking for employment in sincerity and not getting a kick-start in their career according to the plan can lead to stress. However, there are a few missteps by many newbies that obstruct the way of getting hired. They are:
1. Not knowing what to look for
2. Poor preparation
3. Not being proactive enough
4. Absence of experience
5. Searching for themselves, not the employer
1. Not knowing what to look for
After College graduation students must have pick one to two job goals. If you are confused about it and unclear about the kinds of jobs available, then conduct a systematized exercise of 'window shopping' for jobs. Also, you can explore many job sites like LinkedIn, Naukri , Indeed, Shine and more.
Securing a college degree is fantastic, but the major in college does not define the type of job you want to look for. For instance, I was a political science major but went into digital marketing.
2. Poor preparation
Commence early to create your resume, assemble supporting application materials, practice interviewing and get an interview attire.
3. Not being proactive enough
Many recent grads apply for jobs and never follow up leading to overlooking the opportunities. As it is obvious that freshers apply for jobs at various sites and they are unorganised and untrackable. The best solution to track the job is by employing the calendar for follow-ups.
On average, an entry-level job search can be time taking like three to six months. Therefore do not wait until earning your degree to begin the job search rather start searching three to four months before graduation. Moreover, set a timeline for your job search.
4. Absence of experience
Remember your CV is a marketing tool that delivers a synopsis of your knowledge, achievements, skills, and experience. Experts believe that appropriate internships, co-op, externships, and work experience are valued by employers.
In fact, employers quote internship experience with the organisation as the top factor influencing their decision when hiring.
5. Searching for themselves, not the employer
The job search method is all about the 'buyer' or the hiring team at a company. Everything you speak should concentrate on their job description.
For instance, when asked 'Why should we hire you?', most graduates retort 'I can do this, I can do that and I have a degree in X'. Rotate the way you present yourself by saying something like this 'Well, there are three reasons you should hire me. One, you are looking for someone who is analytical and I have strong analytical skills. Two, you need someone who …' See the difference?
Research the job description and make yourself suitable and paint yourself as the best square peg for their square hole.
The solution to get a job
Graduates seeking work should keep in mind that they're in a much better position than job seekers who haven't finished degrees. So as I have mentioned earlier that having a college graduation is not enough, you need to go the extra mile. Fortunately, there are things you can do if your job hunt stalls. On the above mistakes, you can still get back on track and land the position you want. The following tips can enable the upcoming or existing grads to boost their chances of getting hired.
1. Network
2. Use a computer, not a phone
3. Do an internship
4. Don't overlook LinkedIn
5. Get advice from the campus career centre
1. Network
Tap the secret job market and make connections through social networking. Reports state that 80 percent of jobs are never advertised. Therefore networking is one of the best ways to locate employment. Get a quick start with family members, friends, neighbours, and professors to ask about opportunities and get some leads. Otherwise, you can also connect with your alumni regarding the job vacancy.
2. Use a computer, not a phone
For any communications job-search-related, sit down with your computer or laptop. Why? Because too many blunders are made with thumbs, unprofessional communications may eliminate your chance of getting hired or scheduling an interview.
Moreover, you should type their important communications in Microsoft Word first and then check in Grammarly to terminate all mistakes because formal formatting and grammar are critical.
3. Do an internship
Fresh graduates can never get too much experience, but an internship is a great way to get it. Although it feels like taking a step backward to do an internship after college. But in reality more and more workers are employing internships to hone their existing skills or learn new ones to secure a job.
Now after the pandemic online internship has overcome the traditional internship without losing their worth. Many companies started offering remote internships in every domain, and thanks to technology it was a huge success. Here it is a great opportunity for students to opt for an online internship along with their college studies. The best part is if you prove yourself in your internship then it might turn into a full-time job.
4. Don't overlook LinkedIn
Most recruiters utilise LinkedIn to discover job candidates. It is a golden opportunity for recent and existing graduates to commit job search time to connect with potential employers on the site. To get the most out of LinkedIn, fill out your profile, send the connection request to other alumni and participate in groups related to your domain.
5. Get advice from the campus career centre
Even after graduation, you can still take advantage of the career centre on campus. Take an appointment with the professionals in your career centre to discuss your goals and learn how they can assist you to prepare and, possibly, redirect your job search. Take help to build your resume and cover letter for applying for jobs. Also, learn about the myriad of resources available to you as no single job-search strategy can guarantee success.
The last words
Not being able to find a job can be disheartening, and it's normal for job seekers to start feeling flawed as they resume their search. I can relate to the existential situation of wondering how to get a job after college with no experience. These feelings make you question your potential and might end up settling for a job you won't like out of desperation.
It's time to get rid of self-doubt and explore the practical details. Many fresh graduates like you are getting a leg up on the competition by undertaking internships. According to me I prefer getting my hands dirty before the actual job and that can only be done via an internship. Internships have become a smooth passage for students to get a brief understanding of the domain. While most of the students in college are doing more than one internship. Thereby the educational institutes have incorporated a mandatory internship for every department in their final year.
Now ULead offers a paid online internship program for students to upskill themselves. We empower students to become industry-ready through courses and internships. Enroll now!