Without MBA Degree- How to build a career in management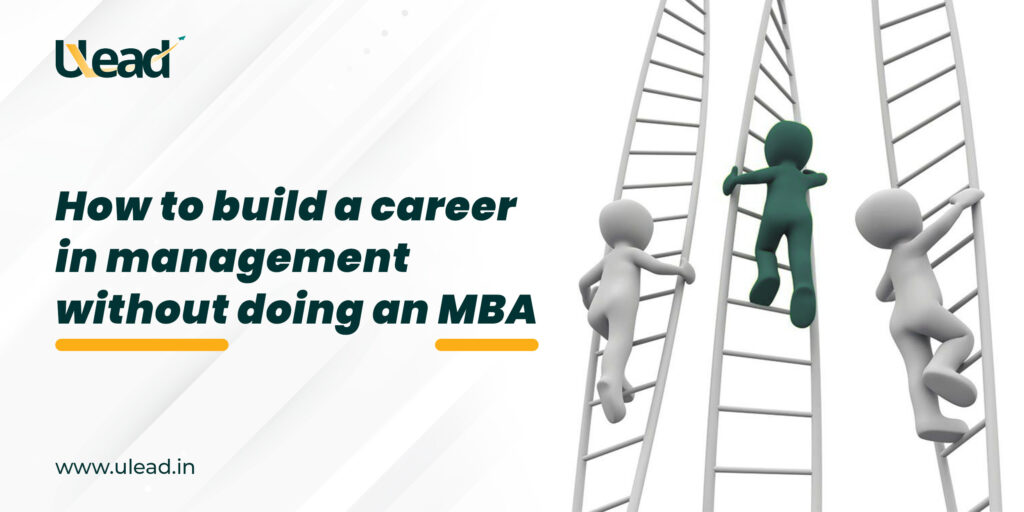 Let's start with unpopular names with popular personalities namely
Ritesh Agarwal,Kunal Shah,Kailash Katkar,Azhar Iqubal
Do these names sound familiar? Any guesses? For some individuals, only a few names may ring a bell. And the rest are still trying to figure out, don't worry I am here to tell you. So, the above personalities are the names from diverse industries domains that are co-founders of startups whose net worth is estimated to be over $1 billion.
Time for reveal :
Ritesh Agarwal– Co-founder of Oyo
Kunal Shah– Co-founder of Freecharge
Kailash Katkar- Co-founder of QuickHeal
Azhar Iqubal– Co-founder of Inshorts
Many of you have been using the products and services of the above company. The best part is they all have one shared factor that is some are dropouts or simple graduates without any management degree with a successful business in India. Therefore the moral of the story is that an MBA degree cannot decide how to build a successful career in Management.
Do you need an MBA degree for a successful career?
Maybe you are steps away from graduating college and peaking for the answers to what to do next. Or perhaps you've been thinking about going for more degrees or start working for a company. But first, you need to understand to calculate your time and money. Honestly, I think you will survive in the market if your skills are updated that matches the mentioned job.
In today's society students with simple graduation are forced by their family or relatives to pursue higher studies because their cousins are pursuing them. Also, some have the notion that an MBA degree leads to a successful career in a managerial position. But in my belief, the world is full of competition and everybody is running behind an MBA degree by investing 15lakh package for 5 to 6lakh package of job opportunities.
I myself have witnessed the scenario, where I completed my MBA from a prestigious college in India and got a placement in a company for a 6lakh package only, which was unmatchable with the fees that were paid for two years. Later I realised that the degrees only look good on resumes but in reality, the skills are weighted for the job.
However, there is no denying the fact that an MBA degree is expensive and time-consuming. What if there existed a second option that wasn't as taxing and at the same time helping you in earning the required skills and knowledge! Well, there exists such an option, and it is internships.
Polish your skills
In today's cut-throat competition, having just a college degree does not qualify you for corporate jobs. In fact, you require the right and latest skills to secure a job in the industry. Additionally, with the constantly advancing technology, it gets challenging for institutes to revamp their curriculum with the latest skills. Therefore many online courses have come up to upskill oneself and harvest new skills in a real-time work environment. Let us dig into the few skills demanded by employers.
1. Business communication skills: Having good communication skills will always give you an advantage in the corporate world. Good business communication represents having proficiency in English speaking as well as writing accompanied by robust interpersonal skills. It will not only help you to get a job but also assist you with fluent communication at the workplace including writing business emails, preparing presentations, verbal communication with clients and more hence speeding up your career.
2. MS Excel: Knowledge of MS Excel is another essential skill required in a professional setting in any domain. Nowadays, almost everyone has an idea about MS Excel but the basic knowledge would not suffice in the long term. You will require advanced knowledge of MS Excel to manage raw data, develop inferences, and ultimately, make business decisions. There are various MS Excel courses available on Youtube, LinkedIn and more.
3. Digital marketing: Amazon Prime, Netflix, and every other product that you have heard of have become popular due to marketing. Digital marketing incorporates different segments such as email marketing, web analytics, search engine marketing, social media marketing, search engine optimization, blog creation, and mobile and video marketing. Thanks to the advancement of technology and pandemics saving travel costs and learning at your own pace. This profession welcomes anyone from different backgrounds like engineering, operations, finance, and more.
4. Time management: If you have submitted your project just before the deadline in college then you have covered half of the journey. In the corporate world, you have to complete your task accordingly. Do not mix your professional or personal life, else meditate to calm your mind.
5. The ability to pivot
You can remember this from Ross Geller's famous advice to pivot the sofa in Friends with Rachel and Chandler. The fancy term for this is adaptability but the pivot is much more definite and accurate. When encountering unexpected circumstances or issues, you must have the ability to pivot. When the company faces a loss where it expected a profit, you must have the capability to pivot and work to recover it step-by-step.
6. Professionalism and strong work ethic
It comes when you are exposed to a real-life corporate world. Experiences are the best teachers and an internship will give you a taste of the actual scenario. Professionalism and a strong work ethic complement each other in the workplace. An individual who displays professionalism and a strong work ethic by taking responsibility for his or her actions, learns from mistakes, and follows through with commitments is desirable in today's scenario.
Internships gives an extra edge
Now you are wondering how internships can give you a thriving career. But give it a thought! You have encapsulated every theoretical knowledge in your brain from school to college and internships can only give you the actual scenario to implement them. According to the experts, the latest trend in the market is internships where recruiters prefer those candidates with internships.
I recall my experience when I was a fresh MBA graduate looking for a job. After scrolling through tons of job opportunities on Indeed, Naukri.com, and more I got a call from a big company. Before moving further let me be honest with you I did not take my internship seriously. When I was interviewed, HR asked me about my internship experience only and I was unable to express my duties. Later I was offered a less salary package which was not justifying my qualification. Then I realised that my skills are more important than any qualification.
The industry ecosystem is evolving every day and so are the demands from the professionals. If you are aiming to become the best, companies enclose highly dynamic environments these days. It is seldom observed that only a few interns/employees have an invariant set of responsibilities. You are expected to manage tasks of diverse natures at the same time. As a result of this, you are exposed to learn about various job roles by actually operating on them.
Another truly significant aspect is while handling numerous tasks, you get to work with different minds from different social and professional backgrounds. Thus it helps to build a professional network for yourself which can go a long way in assisting you when you are on the lookout for full-time jobs in the future.
The road ahead
"Knowing is not enough; we must apply. Willing is not enough, we must do it".
A lot of students often struggle to give a head start on their careers for many reasons such as poor academic performance, low attendance, restricted placement opportunities through college, and more. However, internships have become a blessing for those who cannot afford an MBA degree or are willing to upskill themselves. The above personalities have made a live example for the youths that skill is more invaluable than a higher degree. Hence, sow the right fertile seeds today for a better constructive, and flourishing professional career.
Now ULead offers a paid online internship program for students to upskill themselves. We empower students to become industry-ready through courses and internships. Enroll now!