Insight into Social Media Marketing and it's Career Opportunities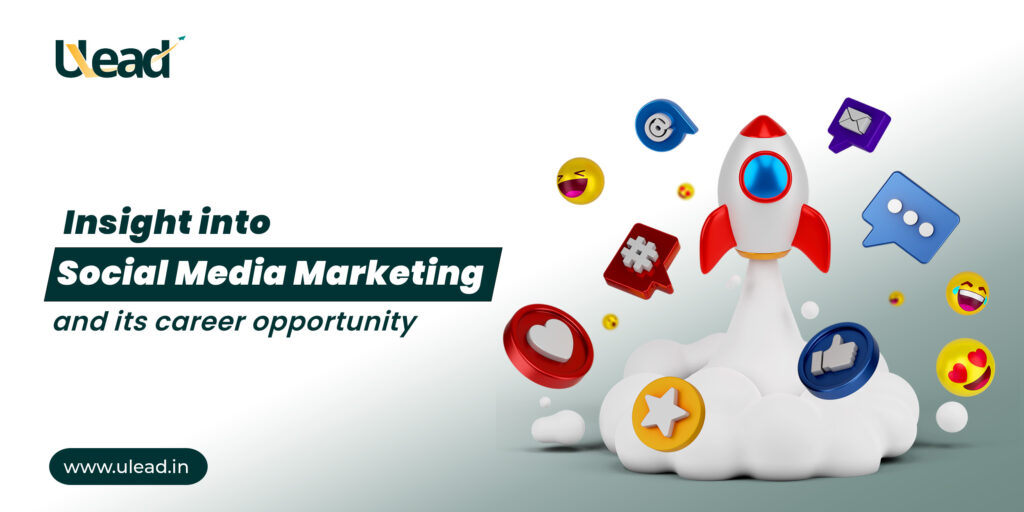 Nowadays, you can find just about anything on social media. It can even make an egg popular which is fantastic news for any business. What is better than Insta-fame? It has the potential to find, connect, and ultimately build relationships with your customers. Therefore the best way to succeed without social media marketing burnout is to show up where your customers are and consistently post engaging content. It's better to invest in a pair of networks than to try to be everywhere.
68% of consumers agree that social media enables them to interact with brands and companies
Traditional marketing and advertising methods are one-way media. But now brands are counting on social media to empower dialogue and give consumers unique opportunities to engage. It has become a social norm for millennials, Gen Z, and Gen Y to have an online presence on the above media platforms. Likewise, in the context of social media marketing, giant techs like P&G, ITC, Unilever conduct business, and driving sales has become much easier but competition has been challenging to stand out from the crowd.
Digital transformation is in full swing. Businesses of all kinds are finally starting to see social differently as a full-blown business function. Social marketers are already masters in turning social data into strategic business recommendations, targeted content, and more.
Are you looking to make a career in social media? But don't have any clue where to begin? What should be the post, and how often it should be posted? Which is more powerful, a like or a retweet? Get on board with us to explore the most popular social media platforms for professional settings.
Scope of Social Media Marketing in India
India is a populated nation with access to good internet connectivity and is a primary cause for the growth of digital marketing. Thus, the digital marketing sector is rising at a rate of 40% per year. Experts have predicted that by 2025, about 975 million people will be using the internet.
However, it took a few years before businesses began to gear up on the positive effects having a legible social media presence had on their brands. According to CNNMoney, social media marketing positions were added to their Top 100 careers with major growth with a 9% increase in job growth over 10 years. Furthermore, LinkedIn encountered an unbelievably 1357% increase in social media positions listed on the platform since 2010 indicating an even more rapid growth over the past decade.
With such a drastic growth rate and increase in user consumption, the scope and growth of careers in India are continuously growing. The best part about this domain is that professionals from other fields are welcomed. You can do a short course, undertake an internship, and land a good job with a handsome salary. Just like any other profession, you need to be updated with the strategy and the technicalities of social media platforms.
Jobs in Social Media Marketing
Now you learned there is a huge scope of social media marketers all over the world. Let's dig into the different job roles in social media marketing along with the salaries:
Social media executive
The duty of a social media executive is in charge of a brand's day-to-day social media activities. In simple terms, develops engaging, creative, innovative content for scheduled posts, which inspires audiences and promotes brand-focused messages. In addition, A social media executive in any firm takes responsibility for Facebook, tweets, Instagram, and Twitter updates. Moreover coordinating social media messaging with advertising departments, brand managers, and company goals. The average salary of a social media executive is about INR 5.5 lakh per annum. Likewise, Accenture is hiring Social Media Executive with prior experience, to know more click here
Social media manager
Social media marketers have a great opportunity in digital marketing in India. A social media manager overlooks the workings of various brands and delegates work to the executives. Accordingly, the text messages, images, and videos on diverse social media platforms are published as per the brand voice of the company. The starting salary of a social media marketer is around ₹1.79 LPA, which can go up to ₹7.26 LPA.
Social media analyst
A social media analyst foretells future social media trends. The main job responsibilities are Social Media Analyst analysing user engagement like click-through and bounce rates as well as reporting on web traffic for all social media. Building and supporting SEO strategies by executing keyword priorities in content marketing projects. Therefore the average salary of a social media manager is about INR 5,50,000 per annum.
Content manager
A Content Manager is a professional who has a unique role in creating the company's brand and establishing its online presence. This job entails managing marketing strategies that engage customers and confirming they are happy with what the company's products or services offer them. It demands creativity and communication skills and the salary can start close to INR. 6,50,000.
Snippets of social media marketing platforms
Social media marketing as a whole is exceptionally valuable and beneficial to any business's growth. Accordingly, the strategy will vary based on which social networks your audience invests their time on. Let us dig into a few detailed social platforms that we employ in our daily life.
Facebook
Users: 1.9 billion daily active users worldwide
Audience: Generation X and Millennials
Industry impact: B2C
Best for: Brand awareness and advertising
Facebook has been an enormous social media platform since its launch in 2004, it has become an invaluable tool for B2C businesses. This medium offers advanced advertising tools and organic opportunities. Industries like TATA, Johnson & Johnson, and more have maintained an authentic page on Facebook to brand their product and services through valuable messages to the mass.
Instagram
Users: 1 billion monthly active users
Audience: Millennials
Industry impact: B2C
Best for: High-quality images and videos; user-generated content; advertising
Although Instagram launched only 12 years ago, the platform has taken the world by storm. In terms of sharing visually compelling content, Instagram is where brands go. Another thing that sets the platform apart is its advanced eCommerce tools. Today, start-ups like mybliss club, HealthifyMe brand their product on Instagram through videos to educate people about their products and complete a purchase without ever leaving the app.
Twitter
Users: 211 million daily active users worldwide
Audience: Millennials
Industry impact: B2B and B2C
Best for: Public relations; customer service; community building
While Instagram focuses on visuals, Twitter focuses on words. Here the 140-character Tweets are all about sharing interesting content with your followers. Now the platform has developed to include an audio tool called Twitter Spaces, a community-building tool called Twitter Communities, and Twitter Moments.
LinkedIn
Users:774 million global active users
Audience: Baby boomers, Generation X, and Millennials
Industry impact: B2B
Best for B2B relationships, business development, and social selling
LinkedIn is known as Facebook's professional cousin. In fact, the only platform where its audience is clearly defined is working professionals seeking to network and new opportunities. Therefore,
It makes it the perfect platform for B2B companies looking to determine key decision-makers and build an industry-specific community.
YouTube
Users: Over 315 million active users
Audience: Mostly Millennials but has a strong audience across gender and age demographics
Industry impact: B2C and B2B
Best for: Brand awareness; long-form entertainment, and how-to videos
According to HootSuite reports, YouTube is the second most visited website in the globe. Additionally, marketers anoint it as the best platform to build community because its users tend to stay longer for long-form content. Thus making it an ideal platform to share educational content.
Snapchat
Users: 306 million daily active users
Audience: Generation Z
Industry impact: B2C
Best for: Brand awareness; advertising
Snapchat was out in 2011, leading the charge in brief content. It came up with the idea that you could share it with your friends and it would expire after 24 hours. The platform came into the limelight in 2015 and since then it held strong. Many believed the brand would disappear once Instagram introduced Stories, the identical feature with a different name. However, Snapchat resumes being favoured among young adults.
Pinterest
Users: 444 million monthly active users
Audience: Primarily Millennials with a solid audience in Gen Z, Gen X, and Baby Boomers
Industry impact: B2C
Best for: Visual advertising; inspiration
Think of Pinterest as a visual storyboard that enables users to get inspiration for everything from fashion to home decor. The report states that 85% of Pinners say Pinterest is the place to begin a new project. In addition, 80% of weekly Pinners commented that they've discovered a new brand or product on the platform. Therefore, it is not only a great discovery tool but it's also a way for brands to build their narrative through visual stories.
Save your time with social media management solutions
HubSpot -It offers a social media tool as part of the marketing software to publish and monitor your content and make real connections with your followers.
Sprout Social – It is a social media marketing and management solution devised to assist the team to organize and plan content creation and reviewing content reports and analysis.
Hootsuite– It is a social media management platform for spotting, scheduling, managing, and reporting your content.
Be selective with your social media presence
Social media is now a crucial part of the way people in most walks of life communicate and a pivotal part of how work gets done. It changes all the time, so it's vital to keep up with the development of the platforms and to keep looking for methods to optimise your use of the available tools.
It has emerged as the most popular media platform with endless opportunities to connect with our friends, family, and for business purposes as well. Almost every social media application can be used for media marketing. Regardless of the size of the social media site, consider whether your brand's target audience is active on those specific platforms. It's better to pick two to three sites and concentrate on them rather than creating content for five or more additional platforms.
With time, businesses are making their online websites and social media pages because of their reach. In the future, we will see that companies will depend more on social media for their business growth. Even now, we see that if anyone wants to search for a product; they seek it on social media to find the product details and company.