Career Lessons- The One Where F.R.I.E.N.D.S Gave Us
"Everyone I know is either getting married or pregnant or getting promoted, and I'm getting coffee, and it's not even for me." – Rachel
That's the myth around Internships, and here we present the inspiration you can take from the most watched and beloved series 'F.R.I.E.N.D.S.'
Kudos to 6 friends, 10 seasons, and 236 episodes for making us smile, laugh, cry, and giving career lessons in the most creative way. I grew up watching the web series and applied some rules in my life too. While other Friends fans concentrate on the characters' comic story lines and romantic endeavors. A major chunk of the show spun around the characters' careers and their fun and modish styling. Let's grab a cup of coffee and revisit our favorite characters and the career lessons they gave us!
Monica Geller
"Welcome to the real world! It sucks. You're gonna love it."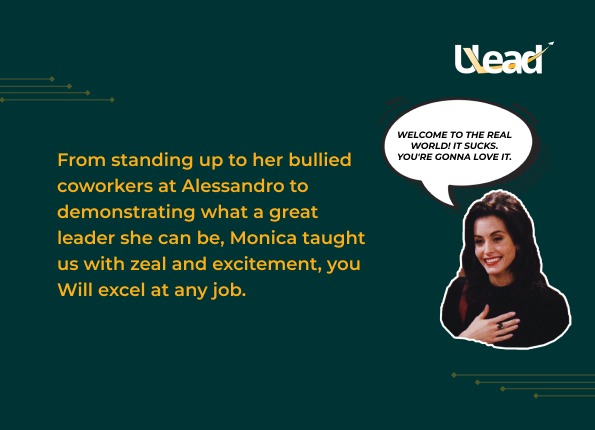 Monica encountered countless great career moments throughout the show. But from the beginning, she was clear about her goal- becoming a Chef. Monica's professional journey was incredible, from waitress at a 50's diner and starting a catering business with Phoebe to becoming a head Chef. Even though sometimes, she used to get on her friends' nerves with her perfectionism and carefulness. These traits supported her to become a successful Chef in her career. She always aspired to be a better version of herself and kept researching new opportunities to display her skills and talents in the best way possible. Likewise, if you are focused on what you want to become then start upskilling yourself to become a better version via ULead.
From standing up to her bullied coworkers at Alessandro to demonstrating what a great leader she can be, Monica taught us with zeal and excitement, you WILL excel at any job.
Chandler Bing
"I say more dumb things before 9 am than most people say all day!"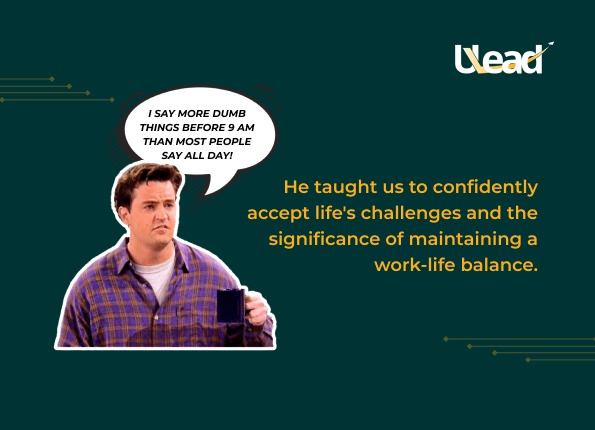 He is the sassiest and the one who is 'awkward and desperate for love'. Chandler's job dealt with statistical analysis and data reconfiguration (oh yes, I finally memorised it), and he hated the job. He learned that hating jobs wasn't normal when he worked during the holidays and his friends said they all loved their jobs. Chandler took the leap of faith and left his well paid job to do something he loved. I didn't agree with him when he said he's not great at advice because he taught us the most important career lessons.
He taught us to confidently accept life's challenges and the significance of maintaining a work-life balance. In terms of professional takeaways, Chandler has been the best example for all who are scared to switch careers at a crucial age. He proved that risk is worth taking if you want to get job satisfaction. If you are planning to switch careers and don't know where to start try Unschool's Kickstarter library to explore your interest. It's never too late to start again!
Rachel Green
"I'm gonna go get one of those job things."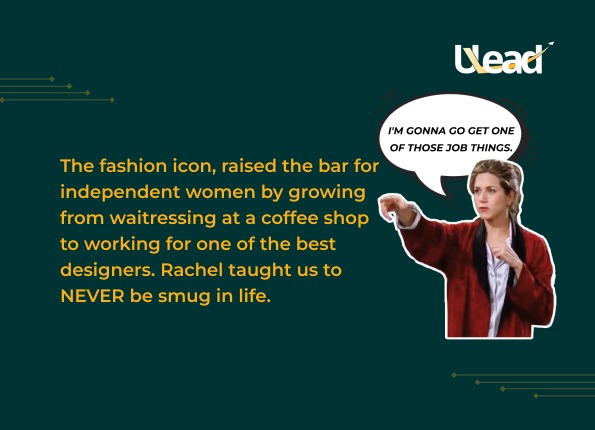 Rachel Green would never have imagined herself to change so much in 10 years! Honestly, neither did I. But the way her career progressed was commendable. She, the fashion icon of the show and every girl's role model, renounced her luxurious life to live independently. From waitressing at the coffee shop to ultimately working for one of the best designers, Rachel taught us to NEVER be smug in life. Rachel knew the significance of grabbing opportunities and always aiming for the best.
Her dedication to her career was praiseworthy. Moreover, getting an internship at ULead will help you to grab for new job opportunities. Although, she chose never to settle down for the ordinary and became an inspiration for many women.
Joey Tribbani
"JOEY DOESN'T SHARE FOOD!"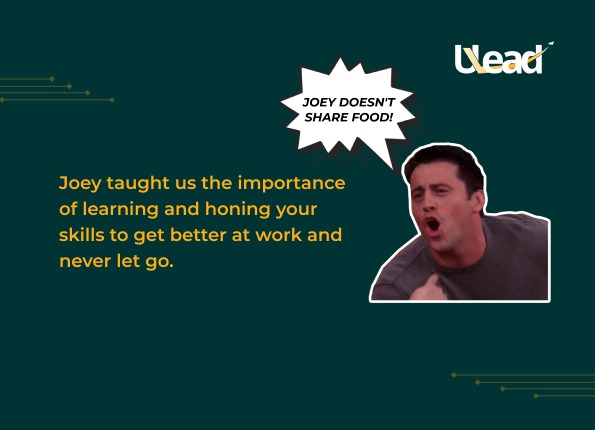 One of my favorite characters in F.R.I.E.N.D.S. Above all characters, you must be thinking, why did I like Joey? Because I consider myself a big foodie and I do not like sharing food. Also, he likes being curvy, which boosted my confidence level in the workplace. Apart from not sharing food, he did share some invaluable career lessons advice for us to grow at work. From the beginning, Joey was shown as a struggling actor desperate to get work. He met multiple setbacks and worked as a waiter at central perk, but he never felt embarrassed by his failures. He never gave up on his dream of becoming an actor, even after hundreds of rejections. He celebrated all his achievements, no matter how big or small.
Joey taught us the importance of learning and honing your skills to get better at work and never let go. If you are determined about your career, start polishing your skills with an online internship with Ulead to get a taste of the corporate world. Also, never add fake skills to a resume, or you will be running from your job interview!
Ross Geller
"I grew up with Monica. If you didn't eat fast, you didn't eat!"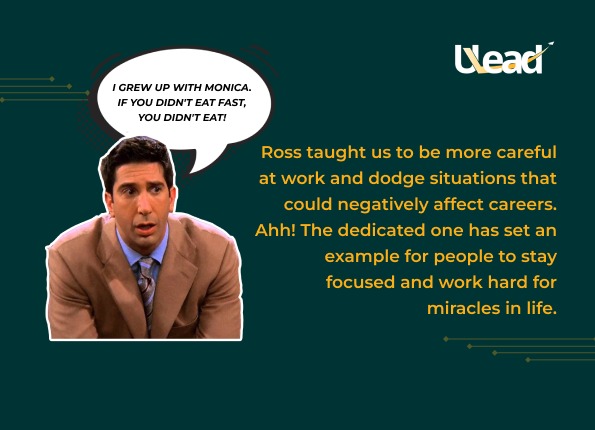 'Dinosaur' or 'divorce' = Ross. From childhood, he was the only one who knew what he wanted in his future (a Paleontologist!) He studied hard to reach his dream job, but his enthusiasm to learn and gain more skills never stopped. He kept investigating new things that helped him grow and broaden his horizon. But the biggest lesson we learned from Ross was never to overstep work boundaries and mix personal and professional lives. In the show, he kept crossing the line in one way or another (remember he screamed at his boss for a sandwich and dated his student at university?)
Ross taught us to be more careful at work and dodge situations that could negatively affect careers. Ahh! The dedicated one has set an example for people to stay focused and work hard for miracles in life.
Phoebe Buffay
"They don't know that we know they know we know."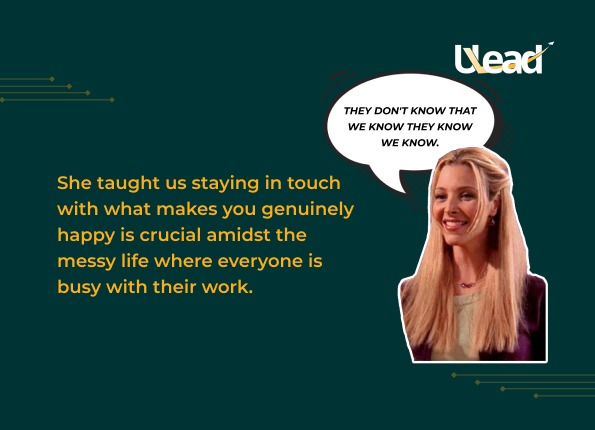 Phoebe had the most ordinary and the least-talked-about work-life on the show. But it doesn't mean there was nothing to learn from her character. She worked as a masseuse and sang and wrote impulsive songs (how can we ever forget the smelly cat song) at the central perk. Although she was an unsuccessful musician and singer, she was dedicated to her passion and NEVER gave up on singing.
She taught us staying in touch with what makes you genuinely happy is crucial amidst the messy life where everyone is busy with their work. You know what I prefer to become Phoebe sometimes when I am bored of professional life. Although, I have a knack for magicians so I am planning to take a magic course from Unschool's Kickstarter library.
Now that you have learned all career lessons from each character, it's time to gear up! Take one inspiration from every character and apply it in real life.
Now ULead offers a paid online internship program for students to upskill themselves. We empower students to become industry-ready through courses and internships. Enroll now!
All the best!