Hyderabad : IT hub- Open for Freshers & Experienced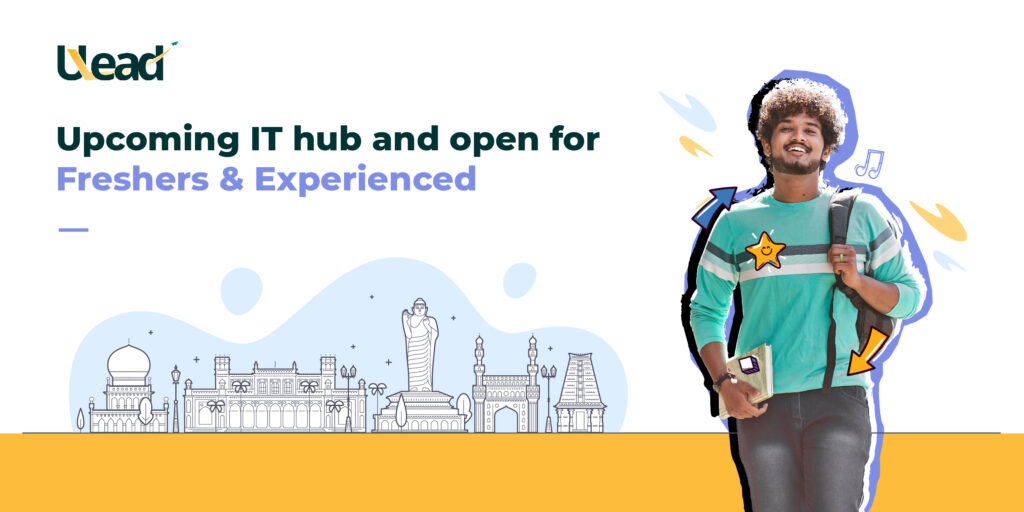 For centuries, Hyderabad has opened its border from Turks to Iranians and from Arabs to Africans and British. The reports from the discovery website holidify.com revealed that it ranked as the best city to live and work in India. Furthermore, the city secured the top place by scoring 4.0 out of 5, beating cities such as Mumbai, Bengaluru, and Chennai.
Hyderabad is known for its cosmopolitan attitude welcoming fresh job and internship opportunities in the IT and Services sectors attracting people from across India. The research reported that 20-25 percent of overall residential real estate is bought by non-Telugu and North Indian people.
If you are searching for a job out of your hometown or planning to relocate with an affordable cost of living, cosmopolitan culture, moderate climate, ease of commuting, healthcare facilities, or more? Then Hyderabad can be the one for you. It is the sixth most populous city in the country with tremendous scope for job seekers. The 'City Of Pearls', Hyderabad has now been transformed into an important commercial city. Moreover, it has welcomed the economy for foreign investors in the IT sector leading to fresh lanes for job seekers in Hyderabad. Simultaneously, from newbies to experienced professionals, numerous people are looking for jobs here.
Home to giant techs
Industry experts commented that Hyderabad remained resilient even during the Covid-19 pandemic and the city of pearls is set to grow at an even more rapid pace. It is home to many large campuses of giant global technology firms whose headquarters are in the United States. Thus employment and business opportunities getting generated here are unparalleled for a city of this size, and they will rise further with time.
The state has experienced a positive transition of 17.93% in FY 2019-2020 as compared to FY 2018-2019 in the IT sector. Furthermore, it has the resources like 24×7 uninterrupted power and specially-constructed software parks to support these firms as well. As many tech firms are based here they provide a lot of internships with certificates for freshers.
Firms like
are currently recruiting freshers and experienced professionals. Nowadays firms are looking for freshers with prior knowledge learned from internships. Experts believe that an internship offers valuable experience to start a career. Thereby multiple EdTechs are offering offline and online internship jobs in Hyderabad to students.
Just like ULead (https://www.ulead.in/) offers an internship program opportunity to students who are looking to upskill themselves while reinventing learning and transforming lives with us. It offers paid internships in Hyderabad to make students financially independent. Empowering students to become industry-ready through courses and internships.
Opportunities in various sectors
According to the reports published by Naukri.com, the growth of the country's jobs was driven by the non-IT sectors like automobiles, telecom and construction, and engineering while there was only a two percent growth in the IT sector. Let us have a look at the sectors which have a high demand for jobs in Hyderabad below:
Hyderabad opens doors of opportunities in various domains for students looking to make a career in the field of:
Research and Biotechnology- can also expect employment in Hyderabad. You can see all the current jobs in Hyderabad the Naukri.com.
Firms like:-
Foxx Life Sciences
Unique Biotech
Bharat Biotech International Limited
and more are hiring.
Tour & Travel- the city also offers good job opportunities because of its rich cultural and traditional heritage. Therefore, it draws a large number of tourists, unlocking routes for tourist guides and travel agents.
Moreover, multiple companies are offering good packages like:
Greenedge Enterprise Ltd,
Srinivasa Tours and Travels
and more.
Entrepreneurs- Many start-ups have come up due to the affordable resources offered by Hyderabad. Likewise, Unschool is a start-up firm in the EdTech domain. It offers online courses for students and paid Internship as well who are looking for in-depth knowledge to excel in that field.
Retail Sector- This sector offers incredible employment opportunities in myriad disciplines of retailing and marketing like JP Morgan Chase & Co, Reliance Retail, and Tata Capital.
Construction and Engineering sector- has encountered a boom in recent times thus offering students having civil engineering backgrounds that can apply for jobs in Ratnagiri Infra Developers, Mace, etc
The scenario has changed after the post-pandemic so is the economy. Now every industry has come back on track with loads of new opportunities for freshers as well as experienced professionals. If you are planning to relocate for a job then I must say Hyderabad is the best place to start your career.
I moved to Hyderabad from Kolkata for a content writer job last year and still have no plans to move out from here. Though there were cultural barriers, still I fell in love with the warmth of Hyderabad. Here the job openings are all-time high and conducting an online search or a bit of personal research might help you in discovering your dream career in the city.