Secure your future by making your internship into a full-time job
An internship is an official or formal program to give practical experience for beginners in a professional environment. The key factor of internship programs is they integrate classroom knowledge in a real-life scenario along with developing skills in a professional setting. Furthermore, the biggest bonus for the student is to participate in a low-pressure experience which gives them a chance to analyse whether to pursue a career opportunity further. Sometimes people get frustrated because they have to struggle to find employment with the required work experience which they lack.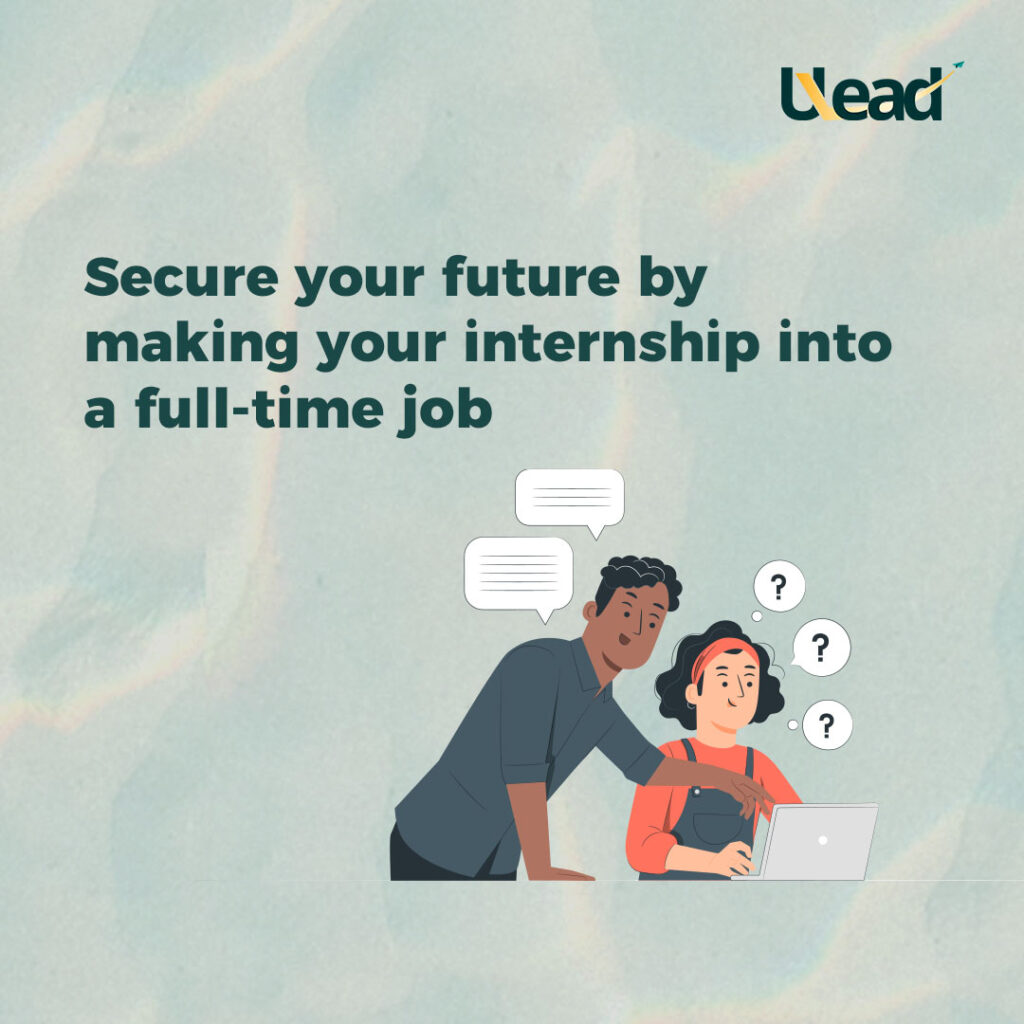 According to the report, 80 percent of college students will change their major at one point during their undergraduate years. Sometimes for many, the field may be appealing to them at first but after completing college it may not pan out to be all they expected as they learn more about it. Therefore, it can turn out to be a costly experience for both the student and the parent. Applying for internships can be a great way to get a taste of the actual professional experience in a specific field. It reveals an invaluable hands-on experience and an opportunity to put theory to practice. This kind of experiential learning is known as internship.
Here are the tips on how to make an internship into a full-time job:
Establish your credibility
Without good projects, the opportunity to explore will be less as well as the chance to showcase the abilities and contributions. As a result, it will be more difficult to convince the boss that you deserve a full-time job. The easiest way to build up that trust is to establish your credibility. The starting point is to reach the office on time. It may seem a small thing but it can have a big impact on how other people perceive you. Thus, punctuality signals your commitment and sincerity.
The second is to take ownership of your projects and deliver results on time. No doubt it may take a couple of weeks to get to know your boss and understand their expectations, but try to meet deadlines, and do complete the task to the very best of your ability.
Lastly, communicate. In simple terms, be honest about what you know and what you don't, and be bold to ask about any hurdles you may be facing. To take part in owning your projects is speaking out and asking for help from your team members and manager. Hence clear and open communication displays that you are a reliable team player.
Clear doubts by asking questions
Everything is new in an internship be it work, the people, or the culture. It will be hard at first. When you have done your research well about the business and its goals, the projects that are vital to your team, and the people who you work with are having a genuine interest in the organization. That said, be mindful of the questions you ask. Here are a few examples:
Task-related questions
Insightful questions
Avoid ill-timed questions
Go above and beyond
Your manager set a few expectations for you at the start of your internship. If you want to land a full-time job then meet those expectations. It will be the cherry on the cake if you can go one step forward and exceed them. For instance, you may be assigned a couple of low-priority projects with no specific deadline. So, it does not mean you will complete your task after one week or so. It is the responsibility of the intern to complete the task as fast as possible and ask for more work. Be persistent about delivering excellence and seeking more work including realistic. Prove your potential to the people by completing your work.
Build connections
Offer to help your colleagues and make yourself essential to the daily workflows. Building professional relationships within your team and throughout the organization will help you to create a network that could benefit the future. It is ok to go to informal meetings after office, it helps you to expand your networks. You never know you might seek interest apart from your specific domain and gain more insight into the new one.
Knowing other departments does not hamper your internship. If your team has a Slack channel, then you can start a conversation by asking for a book or sharing an article or video that is relevant and interesting. Experts believe that the more visible you are, the easier it is for you to find common ground.
Do not limit your interactions and search for peers that you can turn into allies. However, finding a common ground with people in different departments helps you to enjoy your internship.
Our economy is changing daily, and the talents, skills, and experience required to be a part of that growth cycle. However, the job market is a competitive area and companies are competing for the same workforce. Likewise, ULead
Are you looking for the best internship programs?
Well, ULead is a community that makes a difference together. A tribe that levels up, every day. It is a flagship internship program for students to make careers and Upskill. We believe that to reinvent learning and make a difference in the education system, there is nobody better than the youth who are currently a part of it. Furthermore, the internship is a combination of rewarding experiences. From marketing and sales to leadership. We also ensure that you never stop growing, there's always more in store for you at the next position.