Work from home Online Internship is a way of enhancing your skills. At the same time, paid internships are referred to as part-time jobs. Earn while learning. After the pandemic, the investigations for jobs and internships have fallen under the category of work from home. Students looking for internships are confused with many questions on their minds, like how to find internships? Will it be a paid internship? What are the eligibility criteria for finding an internship? Is it online internships?
Since the COVID-19 pandemic is scattered worldwide, willingness to learn and earn for basic needs and other working professionals seek online internships. Moreover, the college was shunned, and sitting at home and not working for months adds to overthinking. It was challenging for students, so online internships came to the rescue. Students started learning and earning and found work from home jobs and internships. Many companies offer interns who are willing to work from home under some guidance, and also, little interaction with supervisors is needed for advice.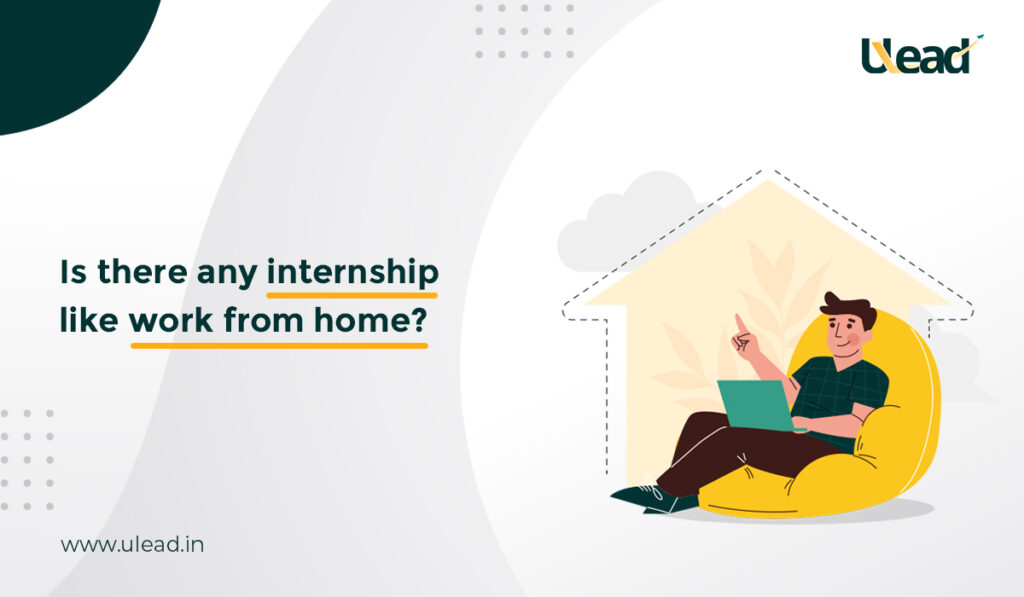 Can interns work from home?
Yes, remote internships are available in every field. Moreover, internships are available on LinkedIn, Indeed, and many more. Registering in these portals is free of cost for an internship.
Working from home internships has delivered opportunities to many students, homemakers, unemployed degree holders, and others to get a job by staying at home and their daily routine. Internships from home are good for improving your skill, learning professionalism, and getting paid for your work.
Where to Find Work from Home Online Internship?
There are many job portals like LinkedIn, monster.com, and social media platforms that provide work-from-home internships in various areas such as design, marketing, teaching, content writing, management, web development, HR, and many more. Well, ULead is an internship program that offers online internships in sales and marketing. We help to upskill you while reinventing learning and transforming lives with us.
An internship gives an extra advantage to the students because they can apply their theoretical knowledge to a practical scenario. Therefore, teaching, content writing, digital marketing, and graphic designing are popular options for students to opt for online internships. Many students would want to troll virtual internships. However, their keen interest in learning a new skill during the internship adds value to their knowledge and resume.

5 Takeaways from Remote Internship
1. Set boundaries, even if your hours and location are flexible
Remote internships are treated project-based rather than hourly. It is mostly treated as homework, like squeezing in a few minutes of work between other commitments. Setting aside dedicated time and space for an internship helps to meet deadlines.
2. Find time to connect with mentors
In a remote internship, it lacks face-time with colleagues. To supplement this, a virtual meeting with your manager is enough to know people in different departments. It's common for interns to invite colleagues out for casual coffee chats in traditional office environments but the scenario is different in remote internships.

3. Practice overcommunication
Communicate with your manager regarding the updates of your work. Keeping informed to your manager might help you turn into full-time employment in the same company.
4. Ask for feedback
The most significant benefit to any internship is getting real-life experience in the workplace. As a result, it helps you shape your plans and mold your skillset to suit your future career goals. To maximize your remote internship experience, get clarified with your manager that you desire feedback.
5. Ask for a letter of recommendation
If you have proved yourself as a successful intern, then you can ask for a letter of recommendation. There is no reason why working remotely during your internship should hold you back from any benefits of a traditional work environment. For interns, building networks is helpful for their future. Furthermore, these professional networks can come in handy when finding a dream job.
Final Thoughts
Explore diverse options on the internet to find a suitable work-from-home internship. Once you find an internship, you can add experience to your resume and apply for jobs. People believe that virtual internships are less important than onsite internships. But in reality, it has equal importance. For college-going students, work-from-home internships are best because it saves the cost of traveling and upskill yourself at your own pace.
Well, ULead provides a complete online learning experience to the students. It gives a chance to the students to become a leader by having their own team. Here is the opportunity to overcome all your fear and be a part of this program. Our program is designed keeping in mind that students have to balance their studies as well as an internship. It is the place to see yourself as a corporate leader in the future. It also offers paid internships, and you can be financially independent before entering the corporate world.

For more updates like this please follow us on social media : Instagram , Linkedin , Facebook